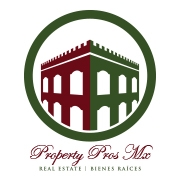 Property Pros - Mexico established in Merida, Yucatan Mexico. Founded by American Businessman that have successful backgrounds in real estate development, and the hospitality industry including establishing and orchestrating successful businesses in the USA and now Mexico. At Property Professionals Mexico our firm is Results Driven and Service Focused.
Merida is known as the City of Peace, it has a long history of Culture from the Mayans to the European influence. Homes range from colonials homes built in the 17th century, to modern homes with sophisticated style that look like they are from the future. A close 20 minute drive and the Gulf Coast offers white sandy beach front homes, condos, and rentals.
It often surprises people to people that there are said to be close to One Million Ex-Pats, which are people that have moved from the USA, Canada, and Europe to enjoy the culture, low cost of living, safety, and also excellent medical care.
www.propertyprosmx.com