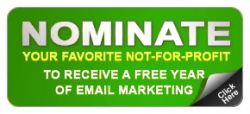 Scottsdale, AZ, February 07, 2013 --(
PR.com
)-- A Scottsdale-based web design and email marketing firm has announced a program to provide more than $36,000 in email marketing services to randomly chosen non-profit organizations in 2013.
In making the announcement, Michael Toll of FireDrum Internet Marketing urged supporters of non-profit organizations to nominate one or more to receive the following free of charge:
-One full year of DIY email marketing services
-One custom-designed template
-List importing assistance
-A featured spot in FireDrum's FireLine e-newsletter.
Toll said one non-profit will be selected each month throughout 2013, and those nominated are eligible to receive a 30% discount off of FireDrum's regular email marketing services.
The First winner will be announced 2/14/2013.
Nominate your favorite Not-for-profit or non-profit here:
www.firedrum.com/email-marketing/not-for-profit-email-marketing-giveaway.php