Push Media Group, The Neala Group and Flip Stylz Entertainment Present Players and Pets All-Star Celebrity Valentine's Day Party, at Avenue Nightclub Houston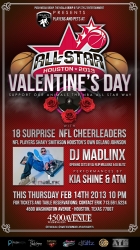 Houston, TX, February 12, 2013 --(
PR.com
)-- Looking for the party to say you attended during the 2013 Houston NBA All-Star Week? Look no further. Here's a unique opportunity to be part of the hottest Valentine's Night to hit Houston. Come to Avenue Nightclub and mingle with first-class athletes and artists. "Players and Pets" Valentine's Day edition celebrity party, with headliner DJ Mad Linx and hosted by NFL players Shaky Smithson of the Green Bay Packers and Houston's own Delano Johnson, will feature live performances by Recording Artists Kia Shine and ATM. An appearance in the fashion show by 18 professional NFL cheerleaders among many other special guests will make this a night to remember.
Push Media Group in partnership with The Neala Group, Sweetest Sundaes and Flip Stylz Entertainment, will present this extraordinary night of "Players and Pets," an event of fashion, music, celebrities and their four-legged, furry best friends to benefit various Houston-area animal rescue foundations. Limited Partnerships and Sponsorships remain. Individual tickets or VIP packages and group tables are still available.
AVENUE, the newest addition to the Washington Avenue Strip located at 4500 Washington Avenue, is the home for many of Houston pro athletes, and this Valentine's Night will be no exception. The club features the area's best DJs and hosts international celebrity guest DJs including, but not limited to: DJ Scene, Z-Trip, White Shadow, Stone Rokk, Graham Funke, Flosstradamus, DJ Irie, Manufactured Superstars and Sky Blu of LMFAO. You never know who you will catch in VIP poppin bottles.
Join Universal Records Recording Artist Kia Shine, NY Lyricist ATM, Delano Johnson of the Houston Texans and Shaky Smithson of the Green Bay Packers along with: DJ Mad Linx, DJ Flip Millionz; DJ Blitz; the NFL Cheerleaders; Taryne Mowatt, 2007 ESPY Award-Winning Female Athlete of the Year; Bianca Cruz, MAXIM Hometown Hottie Semi-Finalist and Bleacher Report.com Hottest Softball Player of All Time; Roger "The Shark" Bernadina of the Washington Nationals; Amber Leigh Hartman, author of The Blonde Side; and other NBA, NFL and MLB players.
Headliner DJ Mad Linx, South Beach Miami Fontainbleau resident, as he brings the sounds of Miami to All-Star weekend and takes the party to a whole other level. DJ Mad Linx is the former host of BET's Rap City and world renowned radio and club DJ. Linx is heard weekly throughout Spain on the nation's #1 radio station Loca Fun Radio, alongside contemporaries like Avicii and Nicky Romero. His style of music ranges from Electro, House, Pop & Hip-Hop to everything else in-between. His popular Mix CD series and Soundcloud page keeps ears ringing around the globe, listen here. Get ready for an All-Star performance from one of the best.
Opening sets by: DJ Flip Millionz & DJ Blitz
DJ Flip has been emerging as one of the most vigorous DJ's on the scene. His unparalleled passion for music has catapulted his performance to new levels as a DJ, writer and producer. Flip's sets include a diverse style of popular electro, house, hip hop, pop music, and any other genre of music to make every tune his own, allowing him to tailor to any mass audience placed in front of him. His vast repertoire of music and the industry has bestowed him the honor of residing for some of the hottest spots in the US. With such a wide array of venues under his belt, Flip has had the sheer privilege to DJ and produce for the following: Justin Timberlake, Pink, Britney Spears, Snoop Dogg, Lil Jon, Carrie Hilson, Chris Brown, Jaime Foxx, Afrojack, Kim Kardashian, NBA star, Amare Stoudemire and P. Diddy just to name a few.
His fresh approach to the music industry is recognized by some of the largest companies in the world who sponsor him: including Grey Goose, Bacardi, and Fuze. The following are a small sampling of the opportunities he has been given to headline: Maxim Magazine Party, Super Bowl XXVI with Adult film star Jesse Jane, the MTV Video Music Awards After Party, Victoria's Secret After Party, Ed Hardy Energy Drink Party and Fashion Show, Usher After Party @ Ghost Bar TX, Lil' Wayne, Rick Ross, Nikki Manage After Party @ Ghost Bar, TX, Miami Beach Music Fest, CMA Music Awards Show After Party. DJ Flip's main goal at any gig is to provide the audience with the utmost amount of liveliness in order for them to be on their feet the entire time feeling a heightened sense of euphoria.
Make your event one Blitz to remember with a live performance by the DJ Blitz. Mike Fernandez aka DJ Blitz, is one of Austin, TX, premier DJ's. He has a "party rock" style that incorporates electro, house, top 40, trap, hip hop, and any other genre of music, to make every performance unique. DJ Blitz holds residencies in Austin, San Antonio, Abilene, and Lubbock. He performs in South Padre Island for Spring Break at Louie's Backyard and Tequila Sunrise, and has played in Dallas and Houston. He is currently sponsored by Hippy thug clothing and Blue Label Vodka. DJ Blitz loves to play energetic and fun music that enhances the atmosphere of your venue.
Location: Avenue Nightclub
4500 Washington Avenue
Houston, TX 77007
This Thursday, February 14, 2013
10 p.m. - 3 a.m. - Fashion Show 11:00 pm.
Tickets for General Admission start at $30 and VIP $60. Table packages are available.
Media Contacts:
Sol Tucker, Executive Director, Push Media Group
sol.tucker@pushmediagroup.com
301.442.5627
Neala Gershkowitz, Event Director, The Neala Group
ng@thenealagroup.com
781.727.4498
Robert Jones, Flip Stylz Entertainment
djflipmillionz@gmail.com
901.277.5333