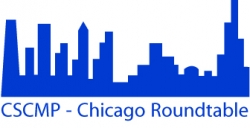 Chicago, IL, February 19, 2013 --(
PR.com
)-- The CSCMP Chicago Roundtable is pleased to announce its 30th Annual Full Day Spring Seminar: US Manufacturing Renaissance. The Seminar will take place March 14, 2013 at the McDonald's Campus in Oak Brook, IL.
Recent studies have found that nearly half of manufacturing firms are examining opportunities to move production back to the US. This full day event will examine the considerations and best practices that impact manufacturers' ability to bring manufacturing back to the US.
Companies presenting at this annual educational networking event of over 200 executive attendees include Caterpillar, Inc., The Kellogg Company, Procter & Gamble, Whirlpool, Motorola Solutions and BNSF Railway. There will also be insights from leading advisory firms such PwC, Deloitte Consulting LLP, Jones Lang LaSalle, and others. Representatives from the Reshoring Initiative and Chicago Manufacturing Renaissance Council will be speaking as well.
Sessions will address key topics:
· U.S. Trade Surplus: An Economic Perspective on the Future of Trade, Logistics and Sourcing
· A Homecoming for U.S. Manufacturing: Why a Resurgence in US Manufacturing May be the Next Big Bet
· Innovation/Technology
· Supply Chain Design/Risk
· Education and Training for the Future of Manufacturing
· New Energy Hubs Emerge in the Shale Oil and Gas Supply Chain
· The Dynamics of Site Selection
· To Offshore or Reshore: How to Objectively Decide
For more information and to register, visit http://www.cscmpchicago.org/ or call CSCMP at 630-574-0985. Exhibiting and sponsorship opportunities are available.
About CSCMP and the CSCMP Chicago Roundtable
The Council of Supply Chain Management Professionals (CSCMP) is an organization that provides opportunities for supply chain professionals to communicate in order to develop and improve their supply chain management skills. The organization's mission is to lead the evolving supply chain management profession by developing, advancing, and disseminating supply chain knowledge and research. Founded in 1963, this year the CSCMP celebrates 50 years of providing education, research, and a variety of exclusive programs and services to help its global members increase the value they add to their companies while enhancing their networking and professional growth opportunities. With more than 9,000 members globally, representing business, government, and academia from 63 countries, CSCMP members are the leading practitioners and authorities in the fields of logistics and supply chain management. For more information: www.cscmp.org.
The CSCMP Chicago Roundtable, founded in 1968, was the first CSCMP roundtable formed. It offers a wide variety of local educational programs and networking opportunities structured to facilitate communication among all represented supply chain segments. These meetings reinforce the mission and vision of the CSCMP and encourage collaboration and connections among participants, with the CSCMP organization, and the supply chain industry at large. Visit our website for more information at www.cscmpchicago.org.