Yemela D. Bell-Gomez, Owner/Partner Recognized by Strathmore's Who's Who Worldwide Publication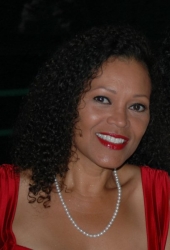 Victorville, CA, February 28, 2013 --(
PR.com
)-- Yemela D. Bell-Gomez of Victorville, California has been included in the Strathmore's Who's Who Worldwide Edition for her outstanding contributions and achievements in the field of civil engineering.
About Yemela D. Bell-Gomez, Owner/Partner
Ms. Bell-Gomez has over 8 years experience in the field of civil engineering. She is the Owner and Partner of Landmark Surveying, Mapping & Engineering, Inc. which is a firm conducting civil engineering, surveying and mapping services in California and New Mexico. Ms. Bell-Gomez specializes in maintaining the business. She is a former senior flight attendant with Eastern Air Lines and a retired teacher, having taught English, Science and History. Ms. Bell-Gomez developed multi-cultural programs and thematic units. She is affiliated with Delta Sigma Theta Sorority, Inc. and is a Board Member for the Holistic Campus Advisory Board W.I.S.E. (Wholistic Integrated Services for Everyone). Ms. Bell-Gomez was born on October 10th in Memphis, Tennessee. She obtained a B.A. from the University of San Francisco and a M.A.+ in Curriculum and Instruction from Azusa Pacific University. In her spare time she enjoys reading metaphysics and traveling to ancient sites. Ms. Bell-Gomez volunteers with numerous community action organizations, mentors to girls aged 11 to 18, and for several years, she has organized a local Commemorative Peace March honoring Dr. Martin Luther King, Jr.
About Strathmore's Who's Who Worldwide
Strathmore's Who's Who Worldwide highlights the professional lives of individuals from every significant field or industry including business, medicine, law, education, art, government and entertainment. Strathmore's Who's Who Worldwide is both an online and hard cover publication where we provide our members' current and pertinent business information and is also a biographical information source for thousands of researchers, journalists, librarians and executive search firms throughout the world. Our goal is to ensure that our members receive all of the networking, exposure and recognition capabilities to potentially increase their business.