"Buddy Bear in My First Day Adventures" is Currently in Production and Slated for a Summer Release with "My First Musical Adventure"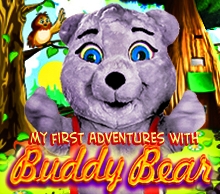 Los Angeles, CA, February 28, 2013 --(
PR.com
)-- Buddy Bear is Back with More Preschool Adventures.
In an exciting move designed to reach out to an even larger customer base, My First Day Productions President John P. Aguirre announced today, his company has inked a deal with Silver Dream Factory and its studio chief Roland Cañamar to produce an undisclosed number of new, musically driven and colorful Buddy Bear Adventures. Together the two companies will be re- launching "Buddy Bear in My First Day Adventures," previously distributed by ThinkFilm. The Buddy Bear Adventures will be focused on the children's VOD/PPV, MOBILE, Home Video and DVD markets.
The first half hour title slated for release is, "Buddy Bear in My First Musical Adventure," currently in production and written and directed by Aguirre, produced by Canamar and Dale Fabrigar.
Going into production soon is, "Buddy Bear in My First Day At The Dentist," written by Rachel Graham and Aguirre with directing duties going to Dale Fabrigar.
My First Day, exclusive to the family home entertainment market, focuses on the exciting first-time events all children encounter. The series prepares young children for these events by recreating situations to demonstrate what children can expect. Each episode stars Buddy Bear, a friendly and furry talking bear, who experiences the first-time events along with his child friends and other human and puppet characters. The first title that was released was My First Day At Preschool and was well received by critics and parents alike as a "must-have" DVD for the Back-To-School season.
Aguirre and Cañamar will be developing ensuing episodes such as: "Buddy Bear in My First Day At the Zoo," "My First Day At the Doctors Office," "My First Day At The Aquarium" and "My First Airplane Ride" to name a few. A full length feature film starring Buddy Bear is slated for production this summer and to be released sometime in 2015, according to studio marketing executive Thomas Jennings.
My First Day At Preschool has already received significant awards recognition from many respected outlets. Parent & Child Magazine selected it as the Teachers' Pick, Parenting Magazine selected it as a Video of the Year, and it has been "Family Approved" by the Dove Foundation.
According to Jennings, "The 'KidVid' market has proven to be immensely successful for producers, distributors and retailers. As established companies, My First Day Productions and Silver Dream Factory are in an ideal position to penetrate the market." The series will focus on learning, edutainment and educational products, certain to please both parents and children.
My First Day creator and executive producer John Aguirre was thrilled at the opportunity to work with Roland Cañamar at Silver Dream Factory. "I'm working with an established studio with like minded, family entertainment values who's helping to re-launch a truly fun, unique and relevant show at Silver Dream Factory. This is really the best of both worlds."
Roland Cañamar, Silver Dream Factory CEO, has envisioned this move for a while. "As a father of three boys, it became very clear to me that KidVid was a business Silver Dream needed to get into. With 'My First Day Adventures With Buddy Bear,' we've launched our own KidVid brand and series in one shot. This will give us a significant foot into the market."
Cañamar has his eyes clearly set on the future. "Silver Dream Factory" and "MFD Productions," are on the look-out for more family friendly genre and niche product and will release additional titles in the KidVid market as they continue to expand on their family entertainment division.
Buddy Bear in My First Musical Adventures cast credits include; Terra Jole suite performer as "Buddy Bear," Kyle Bode and Alex McGee voice talent as "Buddy Bear," Deedee Magno-Hall as the "Forest Fairy Angel," Abigail Schrader as "Melody Muse." Executive Producer, Roland Canamar, Produced by Dale Fabrigar and John P. Aguirre, Directed by John P. Aguirre, Music by Oliver Goodwill and John P. Aguirre
Edited by David Anthony Cruz, Visual Effects by Igor Karapetyan