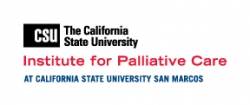 San Marcos, CA, February 27, 2013 --(
PR.com
)-- The California State University Institute for Palliative Care at CSU San Marcos will offer an End of Life Nursing Education Consortium (ELNEC) for Veterans course April 1-2 at the Handlery Hotel in San Diego.
The ELNEC for Veterans course will address the unique palliative care needs of veterans and provide education and training for nurses caring for veterans in any health care setting, including communication, pain management, symptom management, loss, grief and bereavement, and final hours. In addition to helping nurses improve the quality of palliative care they offer to veterans, the two-day program will also ensure course participants have the vital information and skills needed to improve end of life care for all patients.
"Making this course one of our first offerings reflects the importance we assign to care for veterans within the CSU system, at our Cal State San Marcos home campus and at the Institute," said Institute Executive Director Helen McNeal. "It also reflects recognition of the large veteran population that is served by health care systems in San Diego, Southwestern Riverside and Southern Orange counties."
The two-day program will take place 8 a.m. to 4 p.m. April 1-2 at the Handlery Hotel located at 950 Hotel Circle N. in San Diego.
For course details or to register, please visit
www.csupalliativecare.org/professionals
.
About the CSU Institute for Palliative Care
The CSU Institute for Palliative Care is America's first statewide educational and workforce development initiative dedicated to palliative care. The Institute offers professional development and continuing education courses designed to enhance the skills of current and future health care professionals, as well as programs to build palliative care awareness in the community. Courses offered initially at the Cal State San Marcos campus will be part of a model for palliative care workforce development and community awareness that will be available to other interested campuses in California and beyond. To learn more about the CSU Institute for Palliative Care, visit www.csupalliativecare.org.