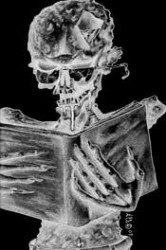 Santa Rosa, CA, February 27, 2013 --(
PR.com
)-- Damnation Books, LLC is based in Santa Rosa, California. Founded by William Gilchrist and Kim Richards Gilchrist, Damnation Books looks to use available technologies to bring affordable dark fiction to everyone.
On 1 March, 2013, Damnation Books will celebrate the first batch of releases of the new year.
There will be two live Meet the Authors Chatroom Sessions.
The first session begins at 2PM ET and the second begins at 7PM ET at the
Damnation Books Chatroom
. Door prizes will be given away at each chat.
March 2013 Titles and Authors
· Bring Me the Head of the Preacher Man by Brian Young
· Other Nature by Shawn Francis
· The World Below by Mike Phillips
· Serum of the Dead by Dave Bloodfield
· Last Dance of the Lochkray by Brian M.H. Goodwin
· Red Dahlia by Ross S. Simon
· Rites of Planets by Steve Laurent
· Splitters: I Killed Kennedy by Paul Hinton
· Shadows by Sean A. Lusher
· Strange Brew by David W. Landrum
· Markheim: Sound and Fury by Carrie Lynn Barker
· Family Values by Brandon Cracraft
· The First Two by Adrian Mallabo
· Memoirs of an Ex-Zombie by Tim Frayser
· Duty, Honor, Country: Kill, Capture or do Nothing by Ed Schroeder
· Behind Bars by Denise Broussard
· Waters of Darkness by Dave Smith and Joe Bonadonna
· Black Rain by Joshua Caine
Damnation Books
continues to bring darned good dark fiction to your favorite e-reader.