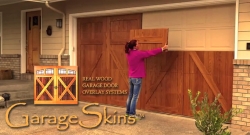 Eugene, OR, August 19, 2013 --(
PR.com
)-- GarageSkins, LLC is now open for business, manufacturing and selling the GarageSkins™ real wood garage door overlay systems. These patent-pending do-it-yourself panels attach directly to your existing metal garage door via the embedded rare-earth magnets and mesh together to give your basic metal overhead garage door the look and feel of a high-end wooden carriage-house styled garage door, including wrought-iron decorative hardware.
Sold as a kit, the entire system weighs between 30-40 pounds for a standard 2-car garage door, and can be installed by anyone in under an hour. GarageSkins™ panels are designed to work seamlessly with your existing metal garage door, allowing the door to open and close just as before. In fact, there is absolutely no alteration necessary to your existing garage door; you simply attach the magnetic panels, then stand back and enjoy the amazing transformation of your home.
Until this product was launched, there was no way to give a home's garage door the look of real wood other than to purchase and install a brand new garage door. The expense of this has kept most home owners from upgrading, and many beautiful homes are therefore saddled with plain, boring metal garage doors. The GarageSkins™ systems changes that and allows homeowners to increase the value and curb appeal of their homes in just under an hour and for less than $1,000.00.
GarageSkins™ real wood garage door overlay systems are manufactured in Eugene, Oregon using the finest wood veneers and materials. Sold direct to consumer via the www.garageskins.com website and warrantied against craftsmanship defects for two years, the systems are an affordable way to completely change the look of a home, making these systems attractive to homeowners, Realtors®, builders and architects throughout the nation.
GarageSkins, LLC was formed in 2012 by owner and product developer Rick Medlen of Creswell, Oregon to produce and market the patent-pending GarageSkins™ systems. For further information contact Rick Medlen at
garageskins@gmail.com
.