DUECO Launches TL50 Mini-Aerial Featuring the Longest Side Reach in the Industry, at 36 Feet, and Great Stability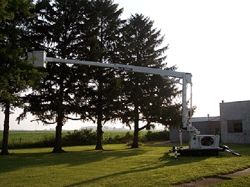 Waukesha, WI, September 10, 2013 --(
PR.com
)-- DUECO Inc., the largest final-stage manufacturer of Terex aerial buckets and digger derricks, introduces a unique Terex TL50 aerial unit mounted on an SDP carrier designed specifically to meet an unmet need for stability with an extra-long reach in back yard tree trimming and back yard power line maintenance.
Terex aerial lift truck units are known for their stability in the bucket and smooth operation. The new TL50 on the SDP platform is no exception. It features over 51 ft. of working height and provides over 36 ft. of side reach. Customers are amazed at the stability, given the reach, and have described the unit saying, "It works like a champ," "It's stable as a rock," and "The specs are unbeatable and the pricing is spot on."
DUECO builds and services a broad line of Terex Hi-Ranger bucket trucks to meet the needs of the tree care, forestry industry and backyard maintenance markets, including:
• Terex Hi-Ranger XT Series
• Terex Hi-Ranger LT38
• Terex backyard models TL38 and TL50
• Terex Boom Truck Cranes
• Fassi Articulated Cranes
About DUECO, Inc.
DUECO is the largest provider of Terex bucket trucks, digger derricks, and cranes for the utility market in the nation. DUECO also manufactures hybrid utility trucks and custom utility truck bodies and distributes mini derricks, aerial lifts, stringing equipment and trailers. Family owned and operated since 1955, DUECO's philosophy of teamwork, integrity, and open communication with customers and employees ensures high quality equipment at the best value. With headquarters in Waukesha County, DUECO services customers 24/7 in fifteen states. To learn more about DUECO and what the company can offer, please call us at 800-558-4004 or visit us on the web at
www.dueco.com