New Mexico Nonprofit NM Horse Rescue at Walkin' in Circles Ranch Named as a Finalist in the 5th Annual Tom's of Maine "50 States for Good"™ Program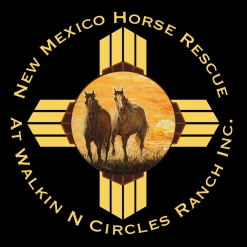 Edgewood, NM, September 17, 2013 --(
PR.com
)-- NM Horse Rescue at Walkin' N Circles Ranch has been selected as the only finalist from New Mexico in the fifth annual Tom's of Maine "50 States for Good" community giving program and now has a chance to win $10,000 to grow important community projects and services that will help with the care and up keep of unwanted, neglected and abused horses in need. Through a public vote at www.50StatesforGood.com now through October 15, supporters can help bring the funding to Walkin' N Circles with the simple click of a mouse.
The "50 States for Good" program seeks to uncover local nonprofit groups that address community needs and engage volunteers to get the work done. Walkin' N Circles Ranch's abused, unwanted and neglected horse rescue relies almost entirely on help from volunteers, in addition to private and public donations to help the nearly 100 horses taking refuge at ranch.
"When the economy took a down turn, many horse owners started having a hard time providing even basic care for their animals. Add to this the three-year drought that New Mexico has been experiencing and it is a harsh reality that horses all over the state are suffering. We are so excited to be part of this year's Tom's of Maine – '50 States for Good' program, as the cash award could go towards a long list of items needed at the ranch to provide for the abandoned, abused and neglected horses we care for. Hay for the winter months tops this list, but we also need money to pay for antibiotics and medications to care for the sick and injured, more corral panels and gates to provide areas for incoming rescues, a new hay barn to keep the hay fresh and clean, a new tractor to help with the many chores on the ranch, a covered arena where the horses can be exercised, rehabilitated and trained throughout the year and a new feed cart to aid in delivering food and supplements to all the horses located on the sprawling ranch.
"As you can see we have a great need and rely on donations and opportunities like being one of the finalists in the Tom's of Maine – "50 States for Good" program to help us reach our goals." - Teri Farley Walkin' N Circles Ranch volunteer.
Non-profit finalists from each state were selected from a pool of nearly 1,000 nominations by an independent panel of judges, featuring including star of "The Vampire Diaries" and non-profit founder Ian Somerhalder, Matt Petronzio, assistant features editor covering social good for Mashable.com, Huffington Post columnist Lisa M. Dietlin and Sam Davidson, president of Cool People Care.
"A desire to do more for a favorite nonprofit can often be hindered by a lack of time to volunteer or financial means to make a donation," said Susan Dewhirst, goodness programs manager at Tom's of Maine. "50 States for Good makes it easy for anyone to have an impact and directly help organizations that are bringing goodness to communities in a variety of creative and inspiring ways."
For several decades, Tom's of Maine has donated 10% of its profits back to the community and encourages employees to use 5% (12 days) of paid time off to volunteer every year. For more information visit www.tomsofmaine.com.
About The New Mexico Horse Rescue at Walkin' N Circles Ranch
We are here to provide for horses, not they to provide for us… refuge awaits behind our safe gates…
Neglect and ignorance are the most common causes of damage to horses. Unfortunately, individuals do not have to pass a comprehensive examination before purchasing an equine. Many learn as they go, some do not care to learn at all. Even though providing the absolute minimum care is legal, it is not healthy for the equine. Sometimes, those horses end up at WNCR, where we can rehabilitate and provide a safe, comfortable environment for the horse as well as give the horse a second chance at life.
For more information about the NM Horse Rescue at Walkin' N Circles Ranch please visit our website at… www.wncr.org
About Tom's of Maine
Tom's of Maine is a leading natural products company focused on oral and personal care carrying high quality toothpaste, mouthwash, dental floss, deodorant and bar soap products. The company has a long-standing commitment to supporting people, communities and the living planet. For over 42 years, TOMs has sponsored hundreds of nonprofit efforts by giving 10% of its profits back to organizations that support human and environmental goodness and by encouraging employees to use 5% (12 days) of employee time to volunteer. TOMs employees regularly contribute suggestions for improving the company's high sustainability standards. And their ideas, from wind power to ways to improve recycled and recyclable packaging options, are critical to the company's sensitive way of doing business. Most Tom's of Maine products are vegan, kosher, halal-certified and all packaging is recyclable through a partnership with upcycling leader TerraCycle or participating municipalities. Tom's of Maine enjoys partnering with its consumers, vendors and community organizations to support lasting, positive change that is good for people and the planet. Visit us online at http://www.tomsofmaine.com/ or at http://www.facebook.com/TomsofMaine.