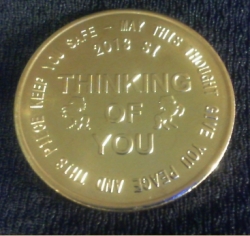 Coxs Creek, KY, September 19, 2013 --(
PR.com
)-- His father, Fredrick Kirchhubel, served as a ball turret gunner in a B-17 bomber and flew in over 30 missions. "My father and the letters were my inspiration," says Mike. "When I realized how important those letters were to my father, I suddenly understood the importance and need of such letters today."
"Time and time again I hear and read that soldiers, above all else, just want acknowledgement, encouragement and to know that they are not forgotten. I thought... There are tens of thousands of Fathers, Mothers, Sons and Daughters overseas and I want to honor as many of these soldiers as I can with something to help remind them that they are being thought of."
So, he and his wife started to put together and send "THINKING OF YOU" brass tokens with a card. The size of a quarter, the brass pieces' perimeter reads... "MAY THIS THOUGHT GIVE YOU PEACE AND THIS PIECE KEEP YOU SAFE"
He and his wife couldn't keep sending gifts without some help, so they started www.brasspeace.com.
For every gift-card bought another gift-card gets sent to either a soldier overseas or to a wounded soldier stateside.
Frederick married his sweetheart, Midge after he returned. Midge kept all their correspondence. Mike said, "Thinking of someone and sending that thought with a letter cultivates that relationship and creates a lasting bond between the two individuals.
"I saw this when my Mother would send letters seemingly every week to friends and relatives with her thoughts and encouragement. I saw this when my Father would exchange letters with his fellow crewman years and years after the war. I saw this when I looked in a box in the attic.
"The cardboard was ruffled and torn. Holding a flashlight I noticed large writing in black marker which read, 'Midge's stuff' on one flap of the box. Peeling away the top of the box I saw in one corner, next to a stack of cookbooks and the bible, a neatly arranged set of opened and yet full envelopes. Within these envelopes were letter upon letter between my Dad and my Mother (then his girlfriend) from when he was serving in the Army Air Corps in WWII.
"The ability to bond through these letters gave them both hope and encouragement. These two major feelings combined with constant communication kept that budding relationship alive all the way through the time he came home. Hope, encouragement and communication are the staples of every great relationship."
Fred and Midge have passed on now, but their legacy remains in the small gifts that their son and his wife, Sissy sent to the soldiers. For more information you can visit their website www.brasspeace.com or contact them through email at mike@brasspeace.com.