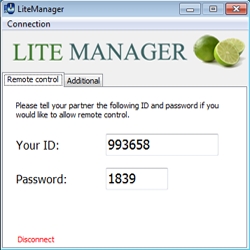 San Francisco, CA, September 30, 2013 --(
PR.com
)-- In a few seconds, LiteManager can set a connection with a remote computer anywhere in the world. You can control your partner's computer remotely, as though you are sitting right in front of it.
To provide technical support, the user just needs to launch a program, ROMServer.exe. It's a server module of the LiteManager program, which can be downloaded from the website litemanager.ru as a separate file or obtained from the installation with the program.
After has been launched, the program generates an automatically unique ID and a temporary password, the data necessary to connect the computer through the Internet.
Now, to connect a remote computer you need to launch the client module ROMViewer.exe on your computer, which can be downloaded from the website litemanager.ru as a separate file or from the installation distribution. Open the link window using your ID and input the remote computer's ID. After successfully linking up, the program will require the remote computer access password, and you can input the given password to the program server module.
After successfully linking, you'll be able to control the computer remotely. For instance, you can connect the remote user's desktop and implement the necessary actions with the help of your mouse and keyboard.
The LiteManager program provides more than 10 separate work modes. Apart from remote desktop control, you can launch and open files on a remote computer, exchange files between computers, manage processes and services, edit the registry, control power supply, send a separate message and communicate in a text and audio-video chat modes, draw up an inventory and to do a lot of other things. All these modes can come in handy in accomplishing set tasks.
Read more:
Litemanager - remote access software
Download:
Litemanager 4.5