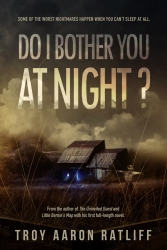 Mission Viejo, CA, October 02, 2013 --(
PR.com
)-- On October 4, 2013, independent author and artist Troy Aaron Ratliff of Mission Viejo, CA, will debut his first novel "Do I Bother You At Night?" through Amazon and various other online and brick and mortar distributors. Ratliff is the author of several short stories and novellas, also available through Amazon.com and Smashwords.com. He is also a skilled artist with an online store that sells variations of his work through Zazzle.com.
Set in the countryside of Kansas during the late spring and summer of 1986, "Do I Bother You at Night" is a literary horror novel that tells the story of farmer Sylvester Petersen, who is mourning his wife's recent suicide and searching for direction in his life. When a mysterious new neighbor suddenly moves in next door, Sylvester ignores the new addition to the area, but soon notices some strange happenings around his farm. As the summer progresses, Sylvester's bereavement begins to shift to curiosity and finally to something much more ominous when he realizes his new neighbor may be more of an otherworldly danger than he originally believed. The oddities intensify to vicious and surreal levels that threaten the people of the region, forcing Sylvester to discover his neighbor's terrifying secret and, and offering a chance at redemption from his grief.
Mike Robinson, award-winning author of Skunk Ape Semester, Green Eyed Monster, and The Prince of Earth, said, "As we know from his short fiction, Troy Aaron Ratliff revels - to our colorful benefit - in turning the ordinary on its head, often in terrifyingly plausible ways. In this, his first novel, he stretches into the realm of the supernatural, but of course, it continues to feel just as plausible because of the vivid characters at the heart of the story. Do I Bother You At Night? will stay with you for many nights."
Ratliff is available for interviews and limited appearances. For booking presentations, media appearances, interviews, and/or book-signings contact troyaaronratliff@yahoo.com.