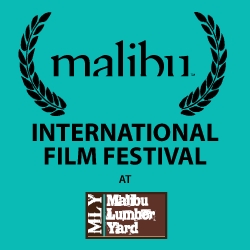 Malibu, CA, October 04, 2013 --(
PR.com
)-- For the 14th edition of the Malibu International Film Festival, 15 films were selected for competition. "These risk taking films were selected for many reasons including innovative storytelling; a powerful message; or pure entertainment." - Nicole Carbonetta, Festival Creative Director.
Films In Competition (in Alphabetical Order):
An Engagement - Introduces us to Daniel and Annie, a young couple about to be married. When a tragic accident occurs we see how Annie copes in seemingly unexpected ways, that when we think about it, maybe aren't that strange at all.
'Brain Power: From Synapses to Hyperlinks' is both a 10-min film and a new TED Book from award-winning Director Tiffany Shlain and her team at The Moxie Institute. Based on new brain research from Harvard University's Center on the Developing Child and University of Washington's I-LABS, the film explores the parallels between a child's brain development and the way the Internet is developing, offering insights into the best ways to shape both our children's brains and the global brain of the Internet.
Bar Talk - In a dusty Texas bar, a chatty stranger insists on striking up a conversation with the man sitting next to him. The more this out-of-towner talks, the more obvious it is he's not from 'round here. Heck, he's not even from this planet! Based on the short story by Joe R. Lansdale.
Cobra - A father grieves his estranged son's death and travels from grave site to exotic club where he makes a transcendent discovery.
Free Pussy Riot - The Movie - Current through July 2013, and explains 'Why?' a female rock band asked 'Mary, Mother of God' to rid Russia of President Vladimir Putin's increasingly harsh and repressive regime. It details the lawlessness of the court system, the perversion of the Constitution and the backward slide into a totalitarian system supported by the Russian Orthodox Church.
Four Winds - Crossing the punishing desert of the American West, Native American Civil War veteran Four Winds is overcome by his demons and collapses on the desert floor. As his body struggles for life, his spirit struggles to move beyond the horrors of war. Brought into a border town and saved from death by the benevolence of a desert guide, Four Winds discovers that while away his family has been murdered by the same racist Capt. Flemming who sent Four Winds Native American D Company on a suicide charge to their deaths. Encouraged by his new companion to again embrace the ways of his people, Four Winds cleanses himself in preparation for a return to town and a final confrontation with the sadistic Captain Flemming.
Hawaiian: The Legend of Eddie Aikau - Chronicles the remarkable life and times of the late Eddie Aikau, the legendary Hawaiian big wave surfer, pioneering lifeguard and ultimately doomed crew member of the Polynesian voyaging canoe Hokulea. With its rich combination of archival imagery, dramatic reenactments, contemporary interviews and meticulously researched historical source material Hawaiian is a compelling examination of the tragic decline and extraordinary rebirth of the Hawaiian culture as personified by a native son whose dynamic life and heroic death served as inspiration to an entire spiritual movement.
Road Warriors 2012 - Welcome to the fastest, most brutal traveling circus in America! Road Warriors 2012 documents a year of motorcycle road racers competing in the 2012 AMA Pro Road Racing Championship. These athletes are the fastest riders in America risking life and limb for the sport they love. Riders, crews and families laying it all on the line for a shot at the national championship. This project is dedicated to the memory of our heroes paid the ultimate price in pursuit of their dreams. Peter Lenz #45; Marco Simoncelli i#58; Kenny Anderson #12. Race In Peace
Rolling Romance - Orson and Janice, two twenty-somethings with muscular dystrophy, meet on an Internet dating site and decide to go on a date.
This Is Water - A pair of fallen-out friends agree to share a ride back to their hometown when their road to recovery takes a detour.
The Rehearsal - A dysfunctional young band struggles to make it through a single song.
The Ufologist - A foul-mouthed, unemployed air guitar enthusiast that moonlights as a UFOlogist, stumbles across the most important case of alien visitation since Roswell...unfortunately.
Titanic Love - The Short Film - Lucy has found a Titanic Love cruise and wants to relive the Hollywood dream. Jack does not, they cant afford it and Lucy is furious. Their relationship hits rough waters and Jack calls on best friend Delroy for advice and a cheap alternative. True to form, Delroy and his trusty sidekick Jaz come up with a cunning plan that could change all their lives forever. Delroy is going to bring the Titanic to Birmingham, but can disaster be averted? Titanic Love is a British romantic comedy short filmed in and around Birmingham city centre. The film has a talented and emerging cast from the region. The film had been produced by some of the regions finest filmmakers.
Never Gonna Break - A dramatic short film about America's forgotten soldier.
Watercolor Postcards - A precocious 10 year-old pushes her best-friend, an ex-pro football player turned esoteric-artist and her long-lost sister together after the death of their mother; but when thrust into her small, eclectic Texas town's troubled past, they both must find a way to overcome their tortured history and realize that only their love can conquer all, before all is lost.
Event Date:
Saturday, October 12, 2013
Doors Open: @ 11:00 AM
Venue 1 of 2:
Malibu Lumber Yard 3939 Cross Creek Road Malibu CA 90265
Venue 2 of 2:
Malibu Public Library 23519 Civic Center Way Malibu, CA 90265
Special Events & Times:
-What Nosh To Do! - Come chat with the filmmakers of the festival and the Entertainment attorneys Sarah Wolk and Zack Levine (from top entertainment law firm Wolk & Levine) as they host an interactive consultation and nosh to offer general legal advice and tips to filmmakers. While not a substitute for a project-specific legal consultation, this is a great opportunity to get your general legal questions answered by one of the entertainment industry's top attorneys. Ticket Price: Free Time: (11AM)
-Film Screenings - Ground breaking independent films will be screened at the Festival with the focus on making people laugh and inspiring people. (12P to 9P)
-Film Premiere "Hawaiian: The Legend of Eddie Aikau" - A portion of the proceeds from the Hawaiian screening will benefit the Eddie Aikau Foundation. (7P)
-Awards Party - Celebrate under the stars with the winners of the Festival with fine offerings provided by NoBu Malibu, Casamigos Tequila, Stella Artois, [Yellow Tail] and Alex in the Kitchen. (9P - 12Mid)
Tickets & Prices:
-Premiere Pass ($100)
(screenings, premiere, awards presentation & awards party)
-Festival Pass ($50)
(includes wards presentation & awards party, all screenings, except premiere)
-Screening Pass ($25)
(includes all screenings, except premiere)
-Screening Tickets ($10)
(good for any one screening block, except Hawaiian premiere)
Malibu Film Festival®
A program of the non-profit Malibu Film Foundation, the Festival has introduced Los Angeles area audiences to some of the most ground-breaking films of the past decade. The 2013 Malibu Film Festival sponsors include: Presenting Sponsors Lilly Lawrence, Wolk & Levine, LLP; Leadership Sponsors – Brosnan Family Fund, Entertainment Industry Foundation, Malibu Lumber Yard, Glimcher, Nobu Malibu, Stella Artois; Casamigos Tequila, [Yellow Tail]; Sustaining Sponsors – Quiksilver, SIR, Studio 116, Britten Banners, Line 204, Steel Deck, VER, American Hi-Definition, Dolby, Patch Malibu, Malibu Life & Style, Kit Pearson Photography and Alex In The Kitchen. Local sponsors include Gracee Arthur, Marla & Peter Rosen, Mary Lou Saeby, Diana Benzaquen, Dave Osman, Karen Crystal. Malibu Film Festival recognizes critical support from the City of Malibu as the Festival Host City. The support of these sponsors and organizations will defray costs associated with the Festival and the nonprofit Malibu Film Foundations' year-round programs for independent film and the animal rescue services provided by L.A. River Horse Rescue.
For tickets, screening times and images go to MalibuFilmFestival.com