CAMINTEL Touch2Vote™ Mobile NFC Campaign Solution Will Help Reyes Campaign Team Reach Out to Voters in Austin, TX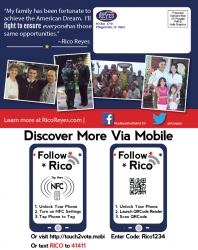 New York, NY, October 09, 2013 --(
PR.com
)-- When State Rep. Mark Strama resigned from Texas' state legislature earlier this summer, he sparked a fierce special election race in House District 50, a complex territory which takes in parts of Austin and its surrounding communities. In their drive to maximize voter mobilization, campaigners for popular local attorney
Rico Reyes
are relying on CAMINTEL's Touch2Vote™ mobile campaign solution to reach out to younger sections of the electorate. Touch2Vote forms part of
CAMINTEL's
'engagement marketing' platform, which leverages the power of smartphones, personal computers, social media, and so-called 'smart media.' Engagement marketing has already been successfully deployed in retail and entertainment contexts, and its developers are enthusiastic about its potential in political campaigning.
Campaign managers across the US are seeking ways to connect with voters -- but the combination of demographic fragmentation and media saturation which characterizes contemporary politics often makes it hard to get their messages across. CAMINTEL CEO Camilo Sandoval commented: "The 18--30 age group just doesn't respond to traditional media strategies. Political campaigners have the hardest time reaching that demographic – and plenty of retailers find their promotions flat lining, too. Our technology provides a perfect solution, because the 'young adult' segment that everyone's after is so completely hooked on mobile communications."
CAMINTEL's Touch2Like™ and Touch2Vote™ flagship products deliver on the potential of smartphones, linking real-world objects to the interactive world of social media. In Mr. Reyes' campaign, literature mailed to 5,000 voters will include NFC-coded 'tags.' Recipients who 'tap' the mailers with their smartphones will receive an exclusive video message from Mr. Reyes including a personalized invitation to respond via FaceBook or Twitter, engage with important local issues, and involve themselves in his campaign.
"Any technology which puts a candidate into direct contact with the electorate is good," commented Sandoval, "Especially if it helps to generate social media buzz via 'Tweets' or FaceBook 'Likes'. But serious campaigners will find a natural partner in CAMINTEL. Touch2Vote™, Touch2Like™ and their sister products were designed for high-volume retail environments, so there's a solid backbone underpinning all the hoopla."
CAMINTEL's offer includes NFC, SMS, and QR code technologies, read/write utilities for smartphone and PC, statistical 'number crunching' applications, extensive campaign templates, and 'decision science' support to enable accurate targeting... plus a mature communications infrastructure capable of supporting the high-volume traffic typical of public events.
Parties wishing to learn more about the potential of CAMINTEL in campaigning and Engagement Marketing, are invited to contact the CAMINTEL office.