Adventurer Geoff Notkin Speaking at Explorers Club in New York City on October 21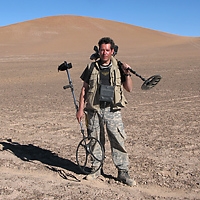 Tucson, AZ, October 15, 2013 --(
PR.com
)-- World-renowned meteorite hunter Geoff Notkin will join an exclusive list this month, when he is interviewed live on stage for The Explorers Club "Exploring Legends" series. The interview session will be led by Jim Clash, a fellow and director at The Explorers Club and a seasoned adventurer in his own right.
Previous interviewees in the Exploring Legends series this year have included moon-walking astronauts Buzz Aldrin and Charles Duke, marine archaeologist Clive Cussler, world-record diver Don Walsh, mountaineer Scott Parazynski, and Olympic Silver Medalist Sasha Cohen.
The presentation is set for Monday, October 21, at The Explorers Club NYC Headquarters, 46 E 70th Street, with a reception at 6 p.m. ET and the interview at 7 p.m.
The event is free for Explorers Club members and $20 for guests. Reservations are suggested on a first-come, first-served basis by calling 212-628-8383 or emailing reservations@explorers.org. Visit http://www.explorers.org/ for more information.
"The idea of the Exploring Legends series is to select the world's great explorers and have an intimate chat – or as intimate as one can have in front of a live audience," said Explorers Club President Alan Nichols. "(There are) no visual props or PowerPoints – just one-on-one discourse between Clash and his guest."
Following the interview, Clash will open the floor to audience questions. Limited quantities of Notkin's latest book, "Rock Star: Adventures of a Meteorite Man" (Stanegate Press, 2012) will also be available for sale.
Founded in New York City in 1904, The Explorers Club promotes the scientific exploration of land, sea, air, and space by supporting research and education in the physical, natural and biological sciences. The Club's members have been responsible for an illustrious series of famous firsts: First to the North Pole, first to the South Pole, first to the summit of Mount Everest, first to the deepest point in the ocean, first to the surface of the moon—all accomplished by members.
Notkin, an Explorers Club member, will share stories of his global adventures as a successful meteorite hunter and star of the international hit Science channel television series Meteorite Men. He has also made documentaries for National Geographic, Discovery, PBS, the BBC, The History Channel, A&E, and The Travel Channel.
Described by the media as one of the "rock stars of science," Geoff has traveled to 45 countries and some of the world's most remote locations in search of elusive and valuable space rocks, including Chile's Atacama Desert, the Australian Outback, Iceland, the Middle East, and has crossed the Arctic Circle in northern Siberia on board an ex-military Russian helicopter.
On Sunday, October 20 at 10 p.m. ET, Notkin's new television series, STEM Journals will debut its second season (the first with Notkin as host). Filmed on location in Arizona, the fast-paced educational TV series features cutting-edge science, technology, engineering and math stories, designed to inform and entertain both children and adults.
STEM Journals airs on Cox channels 7 and 1007 in Arizona, On DEMAND in the FreeZone on Cox Cable, on the Cox7 app (iOS and Android), the Roku® streaming box, and worldwide on www.cox7.com
Media wishing to interview Geoff Notkin are asked to contact Becca Gladden, Public Relations Director, at limelightwriting@aol.com.