Ribbon Cutting Ceremony Planned for Emerald Necklace Tot Park and Trail at Newly Renovated Pixley Park in City of Maywood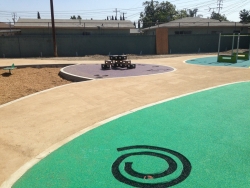 Los Angeles, CA, October 17, 2013 --(
PR.com
)-- On Wednesday, October 23rd from 10am-11am, Amigos de los Rios, the City of Maywood, and First5LA and Supervisor Gloria Molina–County First District invite the local community to attend a Ribbon Cutting "Re-Opening Ceremony" of Pixley "Bunny" Park, Maywood, CA.
This park enhancement project was funded by First5 LA and Los Angeles County First District with goal of creating sustainable changes in the communities by providing increased opportunities for families with young children to be physically active and shift to healthy and active living.
The Re-Opening Ceremony will take place at the park and will feature a special ribbon cutting ceremony and refreshments. Brief remarks by project partners including funder agencies: Karen Robertson Fall of First Five 5 LA, Alma Martinez of Los Angeles County First District, City officials, and Amigos de los Rios will be shared in order to celebrate the completion of the park improvement project.
Amigos de los Rios spearheaded the park renovation project starting with the demolition of a rundown restroom in the back corner of the park which had become an area subject to illicit activities. Amigos de los Rios then retrofit the park with play equipment - developmentally appropriate to children 0 to 5 and their families.
Amigos de los Rios is thankful to First 5 LA for their Tot Parks and Trails project which is creating sustainable change in the community by providing increased opportunities for families with young children to connect with nature and be physically active.
"We have such a brief opportunity to pass on to our children our love for this Earth, and to tell our stories. These are the moments when the world is made whole. In my children's memories, the adventures we've had together in nature will always exist."
― Richard Louv, Last Child in the Woods: Saving Our Children from Nature-Deficit
Amigos de los Rios, 501c3 stewards of the East Los Angeles County Emerald Necklace Park Network, collaborate with communities to protect and restore open spaces by designing quality public environments (parks and trails) that revitalize city neighborhoods within economically challenged communities in Southern California.
amigosdelosrios.org