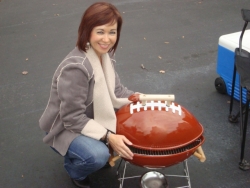 Chicago, IL, November 03, 2013 --(
PR.com
)-- Halloween is over so it's officially the Holiday Shopping season. Every year people are seeking unusual yet practical gifts for their friends and loved ones. New this year from Chicago, IL-based Hot Sports Grills is a portable charcoal grill in the shape of a football.
"This is a great gift not only for football and tailgating fans but for just about any sports fan," said Bernie DiMeo, owner/founder of Hot Sports Grills. "People use it for backyard BBQ's, Super Bowl and other football related parties or just as a kitschy piece for their office, den or man cave," he said.
Tailgating has come particularly popular in the last seven years according to DiMeo. "Nearly 50 million people in the country tailgated in 2012," DiMeo said, "and 30% of them didn't even attend the game."
The grill weighs about 11 pounds and measures 20" w x 18" high. The grill is 13 inches in diameter, DiMeo said, "big enough to handle up to four burgers and a couple of hot dogs or brats at one time." DiMeo said that some people use it as a serving dish and others use it as a chafing dish to keep foods warm.
The grill is available from Hot Sports Grills for $49.99 plus shipping and handling. Customers can expect delivery within 10 days. For more information go to
www.hotsportsgrills.com
or call 773-647-1220.