Navy SEALs, Sport Psychologist, Help Pittsburgh Pirates with First Winning Season in 21 Years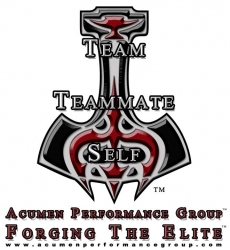 Austin, TX, November 05, 2013 --(
PR.com
)-- Acumen Performance Group (APG), an organizational training company comprised of a group of active and veteran Navy SEALs as well as a U.S. Olympic Committee sport psychologist, is helping athletic and corporate groups unlock untapped levels of performance through Navy SEAL training principles.
At the beginning of the 2012-2013 season, APG conducted a three-day Extended Spring Training program with MLB's Pittsburgh Pirates, which recently ended its first winning season in 21 years, breaking the longest losing streak in the history of major North American professional team sports.
APG is a veteran-owned small business and offers its services to sports and corporate groups to help improve the performance of individuals as well as teams through "neck-up" training – instilling character, developing mental tools and keying on organizational attributes.
"Our programs are not about giving teams a workout," said Scott Brauer, co-founder of APG. "We're looking at developing their mind and how they cope with things in tough situations. Our purpose is to help them focus on being in the right mindset to succeed, pay attention to detail and use the right strategies, critical thinking under stress and coping mechanisms to overcome and excel in a tough and stressful situation."
With over 125 years of combined cutting-edge experience and expertise, APG uses principles acquired through Navy SEAL training to help teams learn to stay comfortable when achieving tasks in an uncomfortable setting. Combining this training with a doctoral psychologist approach, APG's training is as much mental as it is physical.
"Focusing on making someone stronger in mind can have the same benefits as physical training," Brauer said. "We concentrate on getting individuals out of their comfort zone, to a point where they are uncomfortable and then working with them to achieve their goals in that mindset."
APG worked with the Pittsburgh Pirates during the 2012 Extended Spring Training and Fall Instructional League, putting players through voluntary physical drills to place them in unpleasant situations that would normally affect their actions on the field. Once teammates were able to overcome this uncomfortable place, APG helped players get back up and achieve their goals, despite the stressful setting.
"Teammates are afraid to hold one another accountable to high standards nowadays, and APG training helped us move forward in this area," said Bernie Holliday, director of mental conditioning for the Pirates. "More importantly, APG training helped our players and staff realize that we can accomplish far more than we think we can. People are chronic underachievers because they underestimate their capabilities. They hit the brakes when confronting their limitations. After completing the training, we recognize more than ever that the biggest limitations are self-imposed."
Following the Extended Spring Training session, a vast majority of the players also formed the Pirates Gulf Coast Minor League team and won their first Gulf Coast League championship in 34 years.
Prior to forming APG, the founders worked with several other athletic programs including, Oklahoma University men's and women's basketball, University of Southern California's men's tennis and various U.S. Olympic teams including the 2011 and 2012 women's field hockey and 2012 women's water polo team, as part of an awareness program for the Navy. All of the programs showed significant improvement and the program was in high demand. Chief Rob Stella, "I was receiving calls from all over the country from teams seeking our services, we saw a need and APG was born."
APG was officially founded in 2011 and has modified this training within the business and sports arena, having provided corporate training for Flintco, Chef Works, e3 Partners and I am Second as well as athletic programs for Northwestern University football. Throughout all of it's training, APG maintains a 100 percent safety record.
The organization tailors each of its training sessions to meet the individual client's needs, which can be different for government workers who spend their days in cubicles or football players preparing for a season.
"We know APG can help anyone achieve higher levels of performance, mitigate risks and get bigger return on investment in personnel," said Brauer. "Our results speak for themselves. All of our clients crush their previous performance levels and become a much stronger team in every sense of the word."
Acumen Performance Group
Founded in 2011 by trained and experienced Navy SEALs and an Olympic sports psychologist, Acumen Performance Group has provided custom tailored services to an extremely wide variety of clients, helping them unlock the secrets of untapped performance levels. From students to professional athletes; executives to sales teams; and newbies to retirees, APG delivers tailored services to ensure its clients are satisfied with the results. For additional information, visit: http://www.acumenperformancegroup.com.