New Website, howtobuymeat.com Designed for the Benefit of the American Consumer. Learn How to Shop Smarter and Eat Better for Less.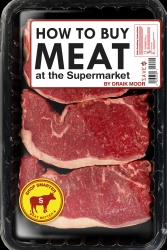 Chicago, IL, January 14, 2014 --(
PR.com
)-- The book "How To Buy Meat At The Supermarket" and the website
howtobuymeat.com
are the products of over 50 years of experience in the retail meat business for Draik Moor. His knowledge and expertise are illustrated in plain, understandable terms for the benefit of the American consumer. The information contained therein is a valuable tool for everyone that is interested in saving money a the supermarket.
The illustrations shown are actual, hands-on comparisons of how "most consumers" overspend week after week for their meat purchases and, very seldom, have anything left to show for their efforts. Upon visiting the website and exploring the book Draik has written, you will clearly understand how to make the changes necessary to "Buy More for Less, Eat Better Quality Meals and Fill the Freezer at the same time." This method has been tested and retested over and over again. Since this is your money to spend, please take the time to visit howtobuymeat.com and start planning how to spend instead of just spending with nothing to show for it. It's time to enjoy some real savings with the knowledge in "How to Buy Meat at the Supermarket."