Ziglar, Inc., Adds Mike Rodriguez to the Team as a Speaker and Trainer to Deliver Powerful Ziglar Programs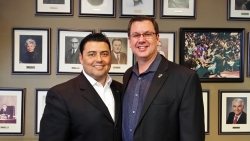 Plano, TX, July 02, 2014 --(
PR.com
)-- Ziglar, Inc., a Plano, Texas-based professional training company, is proud to announce that Mike Rodriguez, a resident of Frisco, Texas, has joined the Ziglar corporate team as a speaker and trainer.
After some fifty years of traveling the globe, sharing his messages of hope and inspiration, Zig Ziglar has a following of millions from around the world. Ziglar's performance-based platform includes sales training, personal development, and powerful training programs tailored for individual businesses.
Mike Rodriguez is a sales expert and the Author of a powerful selling book being released in August 2014. He brings to Ziglar over 23 years of corporate sales leadership and training experience. Mike is also one of a specialized group of Ziglar Legacy Certified Trainers in the world, selected for this position directly by the Ziglar family. Mike delivers performance-based training following the principles, strategies, and life philosophies of Zig Ziglar.
"We are very excited to add Mike to the Ziglar team. His skills, experience, and integrity are exactly what our clients expect from Ziglar." Tom Ziglar, President and CEO, Ziglar, Inc.
To take advantage of the expertise of Ziglar and to bring Ziglar training material to your business or organization, call toll free 1-800-527-0306.
www.ziglar.com
Ziglar, Inc., is a premier training company established by the late Zig Ziglar, author and motivational/inspirational speaker for over 50 years. The Ziglar family is committed to continuing the legacy left by their founder and extremely excited about promoting Zig Ziglar's life work.