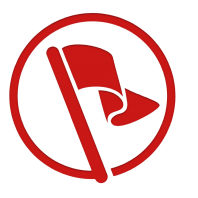 The Red Flag Image Company
is a full service reputation and image management firm, capable of handling all of your brand needs. Our mission is to help protect your name, your brand, your company, your leaders, your executives, and your products and services from misleading and, in many cases fraudulent online posts, reviews, images, videos and other negative items that challenge your credibility.
With 24 hour per day, 7 day per week monitoring by real people, we can help squash unwarranted and unnecessary issues.
Facts:
- 85% of consumers trust online reviews as much as personal recommendations
According to a study by Harvard Business Review, a bad reputation costs a company 10% more per hire
- 64% trust online search engines the most when conducting research on a business
- 97% of consumers read online reviews for local businesses in 2017
- Going from a 3-star to a 5-star rating delivers businesses 25% more clicks from Google
- Every 1-star increase in a Yelp rating leads to a 5 to 9% increase in revenue
- 74% of people who see customer reviews on a business website say they would contact the business
- The 2017 Edelman Trust Barometer shows that 64% of global respondents trust online search engines the most when conducting research on a business.
- Google controls 77.98% of desktop search traffic
- Wikipedia ranks on the front page for more than 50% of all keywords
- 69% of jobseekers would turn down an offer from a company with reputation problems.
- 87% comparison shop every time. 83% of buyers trust recommendations from online users over advertising
- More and more large companies are hiring full-time online reputation managers
- 58% of executives believe that online reputation management should be addressed, but only 15% actually do anything about it
- 31% of employed internet users have searched online for information about co-workers, professionals, colleagues or business competitors
- 76% of companies believe their reputation is better than average - a stat that illustrates many companies are overly optimistic about the state of affairs regarding their online presence; in fact, only about 17% of companies reviewed have an above-average online reputation
- 87% of executives rate managing reputation risk as more important than other strategic risks
- 41% of companies that experienced a negative reputation event reported loss of brand value and revenue
- 86% of people would pay more for services from a company with higher ratings and reviews
- 70% of employers didn't hire an applicant because of online content
- 85% of customers use the Internet to research before making a purchase
- 80% of college admission offices are using Facebook to assess and recruit applicants
- Among U.S. recruiters and HR professionals surveyed, 85% say that positive online reputation influences their hiring decisions at least to some extent. Nearly half say that a strong online reputation influences their decisions to a great extent
- 45% said they have found something in an online search that made them decide not to do business with someone
- 88% of adults agree or strongly agree that it would be very difficult to remove inaccurate information about them online
- Every month there are more than 10.3 billion Google searches, with 78% of U.S. internet users researching products and services online
- In the 25-34-year-old age group, 84% have left a website they previously liked because of bad user experience or advertising they found irrelevant
- 74% of consumers depend on social media to guide their purchases
- 70% of customers prefer getting to know a company via social content and articles rather than advertisements
- More than 80% of reputation damage come from a mismatch between the buzz and the reality
- 94% of people only look at the first page of Google results, and only 2% of people own their entire first page of Google.
- 80% of Internet users in the US say that the negative information read online made them change their mind about a purchasing decision.