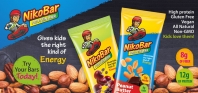 NIKOBAR
OUR STORY:
The idea for NIKOBAR was born in 2010 when Gwynne Yadley and her then 4-year-old son, Nicholas (Niko) Vandervort, began creating custom protein bars at home to meet their own taste, health and allergy needs. Nikobar protein bars for kids are gluten free, vegan and all natural protein snacks.
Gwynne wanted to make a GMO-free, gluten free bar packed with vegan protein that would be perfect for fueling Niko's busy days AND would be easy for his busy parents to pack for school lunches, after school snacks and playdates.
Gwynne and Niko's bars got such incredible reviews from everyone who tasted them, that the duo realized there could be a huge market for their freshly-made, healthy protein bars. And so, along with the help of husband/dad Gabe, they got their little family business off the ground.
NikoBars are now available across the whole United States, with orders placed directly through the company website, and every NikoBar is made freshly in sunny Los Angeles, California.
Our revolutionary NIKOBAR protein bars are based on one simple idea -- Kids need lots of protein and not too much sugar to stay healthy and happy. All-natural, Gluten-free, Non-GMO, Vegan, and made with Organic ingredients whenever possible, NikoBars are protein-packed snacks for active, healthy kids.
Our Vision:
Our mission is to help develop healthy living habits for kids ages 4-12 by making portable and delicious nutrition bars that are packed with all the protein, energy and fiber that growing bodies need, and are easy to carry in a backpack or gym bag. For active kids on-the-go.
WE BELIEVE ALL KID-FOOD SHOULD BE AS NUTRITIOUS AS IT IS DELICIOUS, AND SO OUR BARS:
Are always free of genetically modified ingredients
Never include artificial colors or sweeteners
Are 100 percent natural
Have 12g of plant-derived protein per serving
Are gluten-free & vegan protein bars for kids
Are packed with superfoods, including organic brown rice protein, almonds, cherries and coconut oil.
NikoBars: Protein-packed snacks for active, healthy kids.