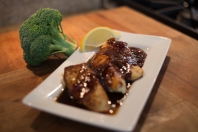 EatDrinkAndMeetMary.com
: Custom meal plans to keep you and your family healthy. Here's what you get:
1.
Healthy, delicious recipes
, all using 5 ingredients or less along with shopping lists arrive in your inbox weekly.
2. Recipes and plans designed to use up ingredients (to minimize food waste) and minimize waste.
3. Meal plan options: Classic, Family Friendly, or Gluten-free.
Meet Mary Mentzer: After a 25 plus year career in advertising designing hundreds of pieces of communication telling people to take control of their health through diet and exercise, Mary Mentzer decided to stop telling people why and start showing them how. She enrolled at Le Cordon Bleu culinary school to further educate herself and graduated in 2013 with high honors. She is also certified in food safety. After graduation Mary took two years to develop this program and EatDrinkAndMeetMary.com was born. The goal of this meal-planning program is to bridge the gap between those who want to eat better but aren't and those who are able to enjoy doing it consistently. Everyone is busy. To eliminate that excuse, Mary is doing the planning for you, saving you time, money and stress. You can feel good that you are making a simple, healthy, home-cooked meals for you and your family regularly. This will be the new norm: healthy, fresh, flavorful food everyday you cook. EatDrinkAndMeetMary.com is the result of Mary witnessing the decline in home cooking. Everyone knows they should eat healthier but it's just not happening. That has to change, for ourselves and for our kids. A slew of benefits come with meal planning. Mary is most proud knowing healthy meals are being cooked and served consistently. It's that simple. If you're cooking, she's happy. If she helped teach you how, she's even happier.