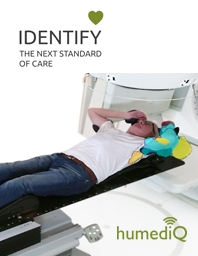 humediQ develops high-quality medical devices and implements the newest state of the art technology.
As radiotherapy treatment becomes more complex, identifying the right setup for each patient's treatment in a busy clinic can be challenging. It has to be done quickly and accurately to ensure the right patient is in the right location with the right technology setup.
At humediQ we are committed to giving the best possible technological support that can help you enhance treatment quality and avoid mistakes caused by stress and hectic pace in the daily routine.
We want to make you, your team and your patients feel confident and reassured by ensuring the right setup for each individual treatment. From the treatment room through the entire clinic.
humediQ's advanced solutions in Patient Safety Products provide clinicians with the tools to save and improve lives of cancer patients worldwide. Our comprehensive state of the art system IDENTIFY is made to increase staff confidence in the integrity of patient identification and set up. IDENTIFY is accompanied by CAREONLINE a system which is actively monitoring patients to prevent potential clinical issues before they become a major issue.
IDENTIFY is a system that provides a safe, transparent & efficient patient centric workflow that maximizes patient buy-in and cooperation. IDENTIFY is a single solution with an unparalleled user interface, for Inter-fraction positioning, Intra-fraction motion management and Deep Inspiration Breath Hold. It provides a process that is identical on all diagnostic and treatment machines and ensures that the right patient is treated at the right site and location with the right accessories and setup and tracks patient movement during treatment.
CAREONLINE is a patient relationship management system that allows for automated scheduling of appointments, tracking patient bio-data, checking disease specific quality of life responses and patient reported outcome involving the patient smart phone in a secure hospital owned infrastructure. The perfect care continuum.
For more information please visit:
http://humediq.com/