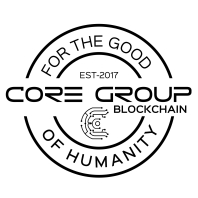 The
Core Group
is a cryptocurrency-focused media organization that seeks to inform mainstream assisting in the adoption of blockchain technology. The Core Group also aims to to be a pioneer in the "decentralized economy," a concept made possible through the crypto-tokenization process. In this alternative model, companies work for the benefit of everyone involved and not just the few with substantial economic power.
The Core Group ventures and activities are managed by a team of experienced and trusted members of the cryptocurrency space, driven to transform the Core Group into a leader in the blockchain media industry. Media and marketing are the team's main focus with plans to transcend this one field with future beneficial projects for the organization and community.
The Core Group community is comprised of CORE token holders. These tokens are backed both by the revenue generated by the Core Group's ventures and by the Core Group's crypto asset portfolio. For the best possible experience, the Core Group chose to issue its tokens on the Waves Platform.