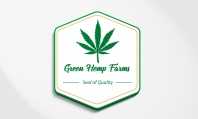 Green Hemp Farms started with 300L CO2 Extraction Equipment with VTA-70 and Interchim HPLC molecular distillation installed in 2018 in a 8200 sq ft industrial building in Delta, Colorado. GHF is working to open a 62,000 sq ft facility in La Junta, Colorado as Indoor Hemp Farm to produce high CBD clones for area farmers and for their own use. The facility has parking area for at least 70,000 sq ft Greenhouse canopy.
Green Hemp Farms has installed Ethos-6 Alcohol Extraction unit from Capna in recently purchased 15,000 sq ft industrial facility in Louisville, Kentucky in May 2019. Under the guidance and direction of its COO Keith, GHF is growing indoor 500,000 clones for 2019 at this Louisville facility under 72 Fluence VYPRx LED lights after renovating the building. Louisville Facility received Food Safety Permit in August 2019.
GHF received a permit for 150 acres out of 309 acres on a agriculture farm it owns in Gravel Switch (Marion County), Kentucky to grow Outdoor Hemp. Ton of equipment including couple of tractors are purchased for cultivation that is in full swing now. Irrigation is by pipe and pump out from adjoining river. Sister company of GHF just purchased 285 acres of dryland agriculture farm in Sydney, NE that has wheat cultivation currently. Nebraska just pass Hemp legislation.
Green Hemp Farms has started production of CBD oil /wax infused products such as Lip balm, skin lotion/cream, Pain cream, Antibiotics cream, Candles and Soap. Gelcaps and tincture is in the process of release. GHF is promoting its products online and by direct marketing to stores on wholesale prices.
GHF plans to partner with a brand that already has a store front presence in at least 20 stores to supply CBD oil and double or triple the number of stores. Otherwise GHF may buy in to any bottle business to develop CBD water, juice, milk, beer or wine.
Green Hemp Farms is always looking for Joint Venture with any similarly situated company. The company has been evaluated above $30 million.
More information at http://www.greenhempfarms.com or
email Garry Dhaliwal, CEO at greenhempfarms@gmail.com