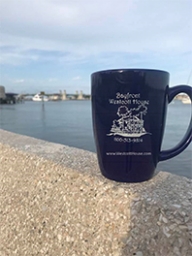 Dream It, Love It; Book It, Live It!
History, mystery, and romance are what bring people to St. Augustine, FL. Its dreamy historic downtown location on the water, vintage charm, stellar customer service, and unparalleled amenities are what attract people to this luxury bed and breakfast.
You'll find Bayfront Westcott House in the historic downtown area, on Avenida Menendez (formerly known as Bay Street) and overlooking Matanzas Bay. This historic home was built in 1880 as a lavish private residence for Dr. John Westcott, well known for his prominent military career, interests in transportation and politics, and research efforts in the cause and cure of yellow fever. He was a land surveyor for the St. Johns Railroad (whose tracks spread from the San Sebastian River to Tocoi) and was a heavy hitter in the development of the Intracoastal Waterway that links the St. Johns River to Miami.
Dr. Westcott passed away in 1888 and was laid to rest in St. Augustine's Evergreen Cemetery. His only daughter, Rachel, lived in the home until her death. The house changed hands a few times over the years and saw its fair share of soirées amongst St. Augustine's elite. In the 1970s, it was converted into a guest house and has been entertaining tourists and travelers ever since!
Today, Bayfront Westcott House is a 16-room, full-service luxury bed and breakfast. Room selection is a huge factor in the ultimate experience. Choose among electric fireplaces, luxury soaking tubs, jetted tubs, spa showers, and private outdoor seating. All rooms feature hypoallergenic microfiber sheets; plush but eco-friendly large bath sheet towels; and William Roam premium toiletries. Inclusive to your room rate is a fabulous full breakfast each morning as well as an early-evening social hour featuring an assortment of beers, wines, and light nibbles.
Bayfront Westcott House Bed and Breakfast is located downtown St Augustine' in the historic district, just a hop skip and a jump from all the Oldest Cities' restaurants, street-side cafes, shopping, galleries, and attractions. At check-in, you will receive an informative St. Augustine orientation, and our staff will be happy to secure reservations for you.
At Bayfront Westcott House Bed and Breakfast, our intention is to ensure your St Augustine stay is amazing. So Dream it, Love it, Book it, Live it. It's just what the doctor ordered!