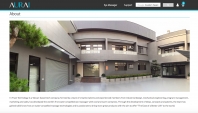 In-Trust is comprised of a team of consumer electronics and lifestyle products industry experts headquartered in Taiwan. Responding to the importance of health in modern life, the company underwent a transitional move in 2009, from design-manufacturing to design-service, aiming to develop a variety of products serving the intersection of health and life.
Our team includes fluid dynamics professionals, engineers, designers and developers across from different industries bringing simple health and consumer products to market.
In-Trust aims to alleviate the 21st century consumer from eye fatigue and strain caused by constant overuse of digital stimuli, which was the reason that AURAI produced, and our eye massager is the world's first water-propelled water eye massager.