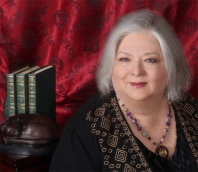 In fiction and non-fiction, author, narrator, and motivational public speaker Jeanne Burrows-Johnson draws on experience in the performing arts, commerce, and education. Academically she holds a Bachelor of Arts degree in history with distinction from the University of Hawai`i and membership in Phi Beta Kappa and Phi Alpha Theta. While completing coursework toward a Master of Arts degree (concentration, the Allied Occupation of Japan, 1945-1954), Jeanne worked as a teaching assistant in the World Civilization program of the History Department of the University of Hawai`i. She is a member of: the National Writers Union; Sisters in Crime; Arizona Mystery Writers; and the British Association of Teachers of Dancing, Highland Division.

Jeanne's current work takes inspiration from the sensory rich environs of Hawai`i, where she lived for over twenty years. She is the author of the award-winning Natalie Seachrist Hawaiian Mysteries which launched in 2016. The series includes Prospect for Murder, Murder on Mokulua Drive and Murders of Conveyance. On November 9, 2019, Murders of conveyance, was awarded first place for Fiction Adventure-Drama in the 2019 New Mexico/Arizona Book Awards. The unusual category may be due to a plot focusing investigation of two murders separated by sixty years occurring during a Chinese New Year scavenger hunt across O`ahu.

As both author and co-author, Jeanne's humorous and engaging articles and essays have appeared in business, literary, professional and general readership publications, including: Newport This Week, Broker World, the Hawai`i Medical Journal; The Rotarian, and Under Sonoran Skies, Prose and Poetry from the High Desert. Focusing on life's synchronicity, her public addresses are noted for intercultural references and historical asides. Jeanne's integrated perspective shapes seminars that facilitate communication between diverse groups of professionals and the general public. As a consulting wordsmith, she draws on her interdisciplinary background to assist authors, artists, and other creative professionals achieve their desired potential.

Comprehensive glossary of terms included in the mysteries, Island recipes, and further information about Jeanne's projects are available at her author website, https://www.JeanneBurrows-Johnson.com.
Status

Private Company