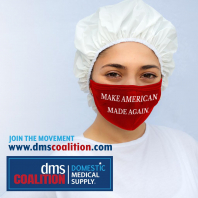 DOMESTIC MEDICAL SUPPLIES COALITION
The lack of supplies in the nation has spurred a different type of pandemic – one that has brought American society to its knees and its economy to a screeching halt. Our entire healthcare sector has been thrust into a war with an unknown and dangerous enemy named Coronavirus.
Our frontline healthcare workers are caring for patients without the needed supplies.
The entire Healthcare sector from Doctors to Nurse Aids are in a fight for the of their lives as they tirelessly and compassionately treat the very patients' viruses that could kill them. And doing so without the usually sourced medical equipment and personal protection. But this extends beyond medical supplies per se; the supply chain for over the counter (OTC) medication such as acetaminophen and guaifenesin which are used to treat the symptoms of COVID-19 has been disrupted. They are afraid for their children's lives. In fact, they are so afraid that they are willing to initiate a national walk out that is being orchestrated by the largest national unions. They will be heard one way or another.
People will die from infections and disease that we have been able to control for decades simply because we have allowed ourselves to be dependent on the world.
Furthermore, production and supply of disinfectants and chemicals used in the healthcare system have dried up and generally not available. Price gouging has become the norm and not the exception.
The American healthcare professional; from the doctors down to the health aides, are frightened for their lives. The fear is manifested and amplified by their facing an unknown sickness that they are attempting to treat with makeshift supplies and therapies. For the United States in 2020 to be faced with this calamity is beyond comprehension.
In the midst of this calamitous event, State and Local governments are requesting Hospitals and Skilled Nursing Centers to prepare for an emergency influx of patients and plan on utilizing community rooms and hallways for the expectant surge. Some possible to double their normal capacity. One by one each county has responded to our requests for back up emergent supplies with a simple letter letting us know that requests would remain unfilled due to NO SUPPLIES.
As of this week, the world had over two and a half billion people under some type of quarantine order. Worldwide production of critical goods has all but ceased regardless of the feel-good news attempting to tell us that production is ramping up. Most manufacturers and distributors of the critical items simply cannot fill orders. Shipping is being held up at ports around the world and governments are seizing material and products for their own survival.
Ask any nurse on any floor in any hospital in the United States today; March 28, 2020; and they will all cry in unison that it is a lie. They do not have medical equipment. They do not have personal protective gear. They are missing the basic necessities that are vital to saving the lives of those stricken with Coronavirus.
The United States; the most powerful and successful country in the history of civilization, does not have control of the supply chain so critical for the items necessary to save lives. Healthcare personnel are currently being forced to reuse gloves, trash bags in lieu of isolation gowns and wearing gallon size zip lock bags on their faces as face shields. Meanwhile unscrupulous brokers and black market suppliers have flooded the market gouging the healthcare industry such as hospitals, essential workers and the public with prices well over 1,000% above the norm.
All fifty states that make up our great union are attempting to source the very same stock that the entire world – all one hundred ninety-five countries, are attempting to acquire. The worldwide inventory is depleted and importing the critical items rapidly is not realistic and a lot of people will die as of a result.
How did we end up here? It is difficult to fully comprehend that we are quite literally in a national state of emergency. No one has operated at this level of speed. No one understands what rights they have at any moment. Even the smartest attorneys in each industry have no concept what this all means. People are frantically concerned with protecting their assets and not acting fast enough to get ahead of this. Most are shocked when they realize that the regulation, they are quoting to protect their rights, are no longer valid.
We must act now.
We aim to change that immediately. We are a group of owners and senior executives from the very industries the nation needs; nay demands, to join the battle to save lives.
Domestic Medical Supply Coalition is a strategic alliance of top CEO's in the country from domestic industries including; Healthcare Operations, Garment/Apparel, Manufacturing, Real Estate, Medical Supply, Finance, Banking, Food & Beverage, Sales, Textile Manufacturing, Chemical Manufacturing, Pharmaceutical Manufacturing Entertainment & Production, Data Processing, Web Development, Advertising, Electronics and Insurance all committed to a rapid response strategy driven by their National Security Advisor & Government Coordinator. This group is working together around the clock and is galvanizing to renew our medical supply inventory through domestic production. DMS Coalition's mission is to spark the alliance of all Americans so that we can quickly pivot multiple industries to become strategically self-sustainable.
We must organize federally and demand immediate domestic production of ALL essential medical supplies including but not limited to:
- PPE
- Isolation Gear
- Cleaning Chemicals
- Drug Manufacturing
DMS Coalition has assembled factories across the garment district and currently in production of a range of PPE for our doctors, nurses and essential personnel.