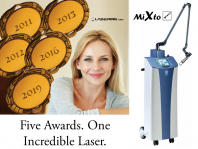 2007: Introduced first patented 'Chopped CW" CO2 technology with microspots for fractional resurfacing.
2010: Introduced the SLim EVO ll laser enhanced with the MiXto Pro fractional system.
2012: Introduced the Velure S9/1064 nm diode laser for onychomycosis.
2013: Introduced the Velure S9/940 nm high power (150 W) diode laser for "total body" vascular lesions.
2014: Introduced the V-Lase gynecologic system for vaginal therapy based on a unique non-ablative CO2 patented technology.