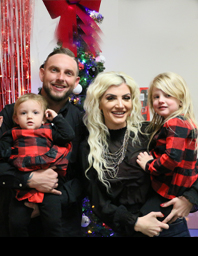 A young ambitious family decided to make a risky move and start a business in Arizona. They put all their investment, time, and energy into this new business. This new business would do roof contracting. The company is named
All About Roofing, LLC.
and the name of the young married couple that owns it are Devin and Siera Nygaard.
Devin and Siera pledged to each other that this would not be a typical roofing company. They would not see their contractors as typical workers and purchasing of roof supplies as money spent. Instead, they treated the company and employees as if it was a gift.
Siera says that one of the secrets to building a successful company is "to treat employees right, take care of them and they will take care of you and the company."
Failure to retain employees that are crucial to a company's success can be very costly. Especially if they are blue collar laborers who haul around hundreds of pounds of asphalt shingles.
"For Christmas last year, we invited all of our staff to a party with a bouncy house for the kids and amazing BBQ. We then gave away tons of money in gift cards, tools and practical gifts." Devin says the best way to show workers you appreciate them, "is to show them you care about them and their family."
All About Roofing, LLC. has only been in business for a little over a year and is one of the fastest growing small businesses in Arizona. They have more than 7-trucks and crews and have been awarded the platinum contractor award by Owens Corning®. Not only do they treat their staff with gratitude and respect, but they also believe in treating customers like family by offering superior value and product.
Devin says the greatest secret to success is to "treat your customers as how you want to be treated."
Valuable information can change a life. Invaluable information can change lives. Where you put your value is where you will see lives changed.