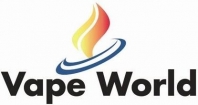 VapeWorld.com was established as a LLC 3 years ago with a very basic designed website with the main goal of the company to be the top rated seller for vaporizers, vaporizer parts, vaporizer accessories and more.
VapeWorld.com started out on eBay a little over 5 years ago under the name Warehouse Goods Online. We still hold one of the highest grossing sales periods for anyone in our industry on eBay. With a 99.9% positive feedback rating and 10's of thousands of customers we figured we would reach a broader market and re-design our website to make it the most professional and user friendly site out of anyone else who sells vaporizers online.
Just this year with the new design of the website and our loyal wholesale customers growing we decided to start meeting our fans and customers by attending conventions and shows including CHAMPS, Exxxotica, LA Expo and more.