Poetry Book of Love's Many Passions: "Passions of Love" First Edition by Indiana Poetess Victoria L. McColley. Romance, Passions, Love, Inspirational Verses, Spirituality
Passions of Love (First Edition). Poetry from The Heart, Soul & Voice of Love, by Indiana Poetess Victoria L. McColley.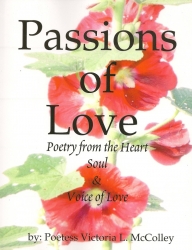 Cedar Lake, IN, October 09, 2008 --(
PR.com
)-- Poetess Victoria L. McColley has released the publication of her first edition poetry books titled Passions of Love, and Captured Darkness. Passions of Love, and Captured Darkness are unique messages about love's emotion, sorrow's loss, demeaning betrayals, and sensual pleasures through poetry. Victoria, also known as Vickie excels within her diverse style of passion for poetic expression. Her ability to write metaphysical poetry is captivating. Her verses of romantic love are sensually intoxicating. She has a very unusual style of expression. She is an impressive wordsmith. She makes her readers think, and feel reflections as they read her poetry. Her readers are very moved by her emotions permeating throughout her poetry. This is what some readers have to say: Poet/Suspense Novelist Richard Orey: "You give new meaning and depth to the classic lines of the great Kahlil Gibran: "And ever has it been that love knows not its own depth until the hour of separation." But here you search for "A treasure I should have known would never be mine." My dearest Vickie, you are indeed the Mistress of Romantic Poetry. Poet Edwin Hurdle: "you are like a painter because you use powerful words and images as your brush to create amazing poetry. It is always a pleasure reading your works. Every time that I read your poetry, my heart feels so good and you make the reader become addicted to your poems. You are an amazing writer. Every reader that reads your poems is lucky to experience your words and talent. Take care of yourself. I'm looking forward to reading your next poem. Edwin" Poet/College Professional Regis Auffrey: "powerfully symbolic as your eloquent expression proves here within your verses. Expressed in your usual eloquent and enchanting style; thank you for sharing this gift" Actor/Author/Poet Felix Perry: "Warmth of passion...knowing no bounds, no limits, no rules...only fulfillment. This write grips the heart like a firm hand grip and keeps it enthralled till the end. As always your heady images of romance and passion dominate the page as you offer us the voice of the Poetess of Passion. The poetry stands out like a rainbow on a gray sky...spellbinding and just something to stand still for a few minutes to admire. Great work. Definitely high brow poetry at its best" Firebrand Lesbian Novelist/Songwriter/Poetess Sage Sweetwater: "Aesthetic ethos of vernal equinox - Embellishing Grace is transcending in meditation and in metaphor, having a walk-on part in Creation. Renewal of the seasons and heart, this is the kind of poetry which lures one toward resolutions where spiritual contentment and sanctuary places us in the comforts of satisfactions...enhancing aura and a mind-adjuster..." Historic Novelist/Author/Poet Gene Williamson: "Again and again from Victoria's pen...the language of romance, enchantment, and soft sensual beauty." Poetess J AGuilera "Your style ebbs and flows like the summer tides, beckoning us forward and gently washing over our feet as it rolls in, spraying us with healing messages from the sea. Poetic passion flowing out like the slow pouring of melted chocolate over summer ripened strawberries waiting to be picked and then kissed.... You paint visions that charm the savage beast. We are embraced, Thank You" Poet Art Sun Hernandez: "Victoria...your poems have that depth where one can dive into the realms of unknown thoughts, when your expressions become more than imagination and love is even more than a display of poetic form....there is the essence of ... Spirituality..." Poet/Spiritualist/Musician Robert Matejko: "quite moving, a truly beautiful piece, beautiful as art as well as poetry. There is a unique energy, like a fragment of a dream or something, both in how it reads and how it feels, intriguing write. Bittersweet… Beautiful, eloquent, flowed off my mind like a sweet dream" Poetess Victoria says, "Love is the essential splendor of our existence...The depths of our souls abysmal expression...Love is a captureless entity that knows freedom...The divine open resolute of exotic knowledge.... Passions are the Ink To My Poetic Pen...Poetry Is My Emotional Expression...Emotions are My Poets..."
Passions of Love (First Edition)
ISBN: 978-1-4357-2030-5
Publisher: Lulu.com
Rights Owner: Poetess Victoria L. McColley
Copyright: © 2008 Poetess Victoria L. McColley
Paperback book $22.39
Poetry from the Heart, Soul & Voice of Love
149 pages, 8.5" x 11", perfect binding, white interior paper (60# weight), black and white interior ink, white exterior paper (100# weight), full-color exterior ink.
Contact Poetess Victoria:
groovycharmer@hotmail.com
Passions of Love:
http://stores.lulu.com/store.php?fAcctID=2360301
###
Contact
Poetess Victoria L. McColley
219-798-5432
stores.lulu.com/store.php?fAcctID=2360301
http://authorsden.com/victoriamccolleyromanticpoetes

Contact