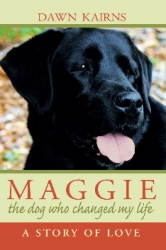 Boulder, CO, December 06, 2008 --(
PR.com
)-- "Animals are such gifts to us and the human-animal bond can be such a powerful part of our lives," says Dawn Kairns, author of Maggie: The Dog Who Changed My Life. Dawn has donated portions of book proceeds to local humane societies (The Humane Society of Boulder Valley and The Denver Dumb Friends League) and to Mainline Animal Rescue (MLAR) in PA. MLAR is devoted to raising awareness of the conditions in puppy mills and rescuing their canine victims, a passionate cause the author shares. Kairns has also donated her books to numerous rescue group fund raisers, including MLAR. She is in the process of partnering with Table Mountain Animal Center so that a portion of her book proceeds sold through that shelter will benefit Table Mountain. Her goal is to continue to support animal rescue organizations by donating portions of her royalties from the sale of Maggie: The Dog Who Changed My Life by partnering in similar fashion with animal shelters and rescue groups.
Kairns' hope is that the love from her deep bond with Maggie will speak to readers who connect with their dogs in the same way, and will offer support to those experiencing pet loss. Ann Johnson, LCSW of the Human Animal Bond Trust (the group of veterinarians and mental health professionals who run this Pet Loss Group) in Denver states, "I plan to share Maggie: The Dog Who Changed My Life with all members of the Human Animal Bond Trust, Inc. and to keep the book available at our Pet Loss Group meetings. As one of the three mental health professionals who have facilitated our Pet Loss Support Group for the past 20+ years, and a dog/animal person forever, I can only agree with everything you've included in your book and would wish everyone could read it."
In Maggie: The Dog Who Changed My Life, the author's black lab, Maggie, helps Kairns find her place in the world, both personally and professionally. Through her relationship with Maggie, who she calls her once-in-a-lifetime dog, Kairns learns that dogs are intelligent, emotional beings that can sense our thoughts. When Maggie's health is compromised, Kairns takes readers on her journey to discover what's really best for our pets when it come to pet food. The depth of their bond opens a surprising door for the author to trust her intuition over intellect, and to respect the messages communicated through her dreams. Pet guardians who have experienced the profound sense of loss that comes with losing their own cherished pets will find a kindred spirit in this book.
Author Bio
Dawn was born and raised in northwestern Indiana, but Colorado has been home for over 31 years. A lifelong animal lover, her passion for dogs led her to volunteer with local rescue organizations, including the Humane Society of Boulder Valley, Front Range Labrador Rescue, and Freedom Service Dogs. In the aftermath of Hurricane Katrina, the author and her husband travelled to Mississippi to work with the Humane Society of the United States assisting the displaced Katrina dogs. Her own dog and cat are rescues. A family nurse practitioner turned writer, Dawn Kairns has also published in nursing journals, American Fitness magazine, The Daily Camera, and Real Travel Adventures Magazine.
Contact Dawn Kairns for more information or interviews:
Tel: 303-449-4624 or 303-579-0547
Fax: 303-449-4416
Website:
http://www.dawnkairns.com/
Email: dawnkairns@yahoo.com
ISBN: 978-0-595-47435-6 ● Publication Date: July, 2008 ● Price: $15.95 ● Publisher: iUniverse ● Trade Paperback: 168 pages
###