Celestron Applauds the White House and President Barack Obama for Their Support of Astronomy and Science Education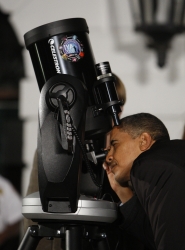 Torrance, CA, October 14, 2009 --(
PR.com
)-- Celestron® the world's leading telescope maker and global sponsor of the International Year of Astronomy 2009, applauds the White House and President Barack Obama for their support of astronomy and science education. On Wednesday, October 8, 2009, President Barack Obama and the first lady Michelle Obama hosted what is believed to be the first star party ever to be held at the White House.
President Obama kicked-off the event with a brief address that was streamed live on the whitehouse.gov website. The program at the White House included more than 20 telescopes set up on the White House lawn focused on Jupiter, the Moon and select stars. President Obama, under the direction of his science advisor John Holdren, viewed a double-star in the constellation Lyra through a
Celestron CPC 800 computerized telescope
. "Celestron commends President Obama for his commitment to science education and support of astronomy. It is imperative that we all work together to bring awareness to our next generation about our place in the universe and the contributions that amateur astronomers can make to modern astronomy," said Joseph A. Lupica Jr, President and CEO of Celestron.
This star party was held to mark the International Year of Astronomy (IYA2009), which celebrates the 400th anniversary of Galileo's first use of a telescope. "What will your great discovery be?" Obama asked the students before viewing through the telescope. "Galileo changed the world when he pointed his telescope to the sky. Now it's your turn. We need your restless curiosity," the president said. Obama, his wife Michelle, and a group of 150 local middle-school students attended. Also in attendance were two 15-year-old amateur astronomers, Caroline Moore, who at age 14 became the youngest person to discover a supernova, and Lucas Bolyard, who discovered a rare type of ultra-dense star known as a pulsar. Former astronauts Buzz Aldrin, Sally Ride and Mae Jemison, and current astronaut John Grunsfeld joined the historical event as well.
Visit the websites below for information on other notable IYA events happening in 2009:
October 9-23 -- Great World Wide Star Count
www.starcount.org
October 19-25 -- Fall Astronomy Week, including Fall Astronomy Day on Saturday, October 24, with the Astronomical League
www.astroleague.org
October 22-24 -- IYA Galilean Nights global star party
www.galileannights.org
November 10-30 -- NASA's Image Unveiling
hubblesource.stsci.edu/events/iyafinale
IAU International Year of Astronomy website:
www.astronomy2009.org
Celestron is the leading designer, manufacturer and importer of high-quality optical products including computerized and non-computerized telescopes and related accessories, binoculars, spotting scopes and microscopes. Since manufacturing its first telescope in 1960, Celestron has grown to become the world's leading telescope maker, and enjoys brand-name recognition among serious amateur astronomers for superior optics, outstanding design, and innovative technology. Celestron's innovative products continue to receive numerous industry and consumer media accolades, adding to an already impressive list that includes awards for product innovation from Reader's Digest, Popular Science, PC Magazine, Popular Mechanics, the Consumer Electronics Association and more. Celestron sells and markets its products worldwide through a variety of specialty retail outlets and international distributors. Celestron is a privately held company with corporate offices and manufacturing facilities, in Torrance, CA. For more information about Celestron please visit
www.celestron.com
.
###
Contact
Celestron
Michelle Meskill
310-328-9560
www.celestron.com

Contact