Oscar Nominee Mo'Nique Speaks to PR.com's Allison Kugel About Precious, Industry Politics and The Mo'Nique Show
Mo'Nique gives a revealing interview to PR.com journalist and Senior Editor Allison Kugel about her life journey that led the actress to her role in the film "Precious."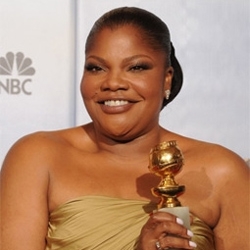 New York, NY, February 22, 2010 --(
PR.com
)-- In an intimate and candid interview with journalist Allison Kugel, Golden Globe winner and Oscar ® nominated actress
Mo'Nique
talks to PR.com about her childhood dreams of movie-stardom, surviving childhood sexual abuse, embracing the film role of a lifetime in Precious, and bringing inspiration to late night with The Mo'Nique Show on BET.
Some notable quotes from Mo'Nique's PR.com interview:
"Being molested by my oldest brother Gerald, I was very aware of who this character was. We wanted to make her very honest. We didn't want to sugarcoat her." – on where Mo'Nique went to channel the character, Mary Jones in Precious
"I didn't tell 'till I was fifteen. And at the time I didn't get any help. I didn't understand all that. I didn't actually go to therapy until a few years ago. But to deal with it, I think my situation wasn't unique, and I did what most kids do. You put it in the back of your head and you don't tell anybody. You just keep it going." – on how Mo'Nique dealt with sexual abuse as a child
"I understand why people print those things. People want to eat. And if they print the truth, they may not feel like that's exciting to read. They don't want to print, 'We understand why Mo'Nique can't attend, because she's also a talk show host and she tapes six shows a week.' Well, that doesn't sell. That's not juicy. The juicy news is, 'Mo'Nique's being a diva. She's not gonna show up.'" – Mo'Nique addresses diva rumors surrounding her absence from the Oscar Nominees Luncheon in Los Angeles
"That gets tricky with the Universe. It just gets tricky in the sense of, I don't want to write anything knowing I'm [going to] win something. I have conversations in my head, but I don't want to start saying, 'Ok, I know I'm going win…' because then the Universe says, 'Let me show you something. Oh, you think you're something special.' I don't want to have that conversation." – Mo'Nique on why she won't prepare an Oscar acceptance speech
"Those red carpets, baby, that's the prom. That is the prom! It is like, 'Oh my God!' I think I'm looking forward to being a part of history. I think that the night that I walk down that red carpet I'll think of Hattie McDaniel (the first black actress to win an Academy Award). And I'll try to think about the night she walked down that carpet, being the first one, you know?" – On Oscar night Mo'Nique will think of those who made it possible for her
Visit
http://www.pr.com/article/1146
to read the Mo'Nique interview in its entirety.
About Allison Kugel
Allison Kugel is an American
Journalist
whose written work centers around celebrity feature profiles of public figures from film, television, music, fashion, politics, the literary world, business and world affairs. Allison Kugel has interviewed more than eighty well known personalities including: Mo'Nique, Michelle Rodriguez, Kim Kardashian, Gloria Allred, 50 Cent, Howard Dean, Deepak Chopra, Nia Long, David Plouffe, Dr. Andrew Weil, Denise Richards, Joy Behar, Kendra Wilkinson Baskett, Nicole Scherzinger, Ron Reagan, Carrie Ann Inaba, Kevin James, Ron Paul, Margaret Cho, Ashanti, Kat Von D, Morgan Spurlock, Gene Simmons, Bret Michaels, Jenny McCarthy, Jenna Jameson, Stan Lee, Tyrese Gibson and Brooke Hogan to name just a few. Apart from freelancing for various publications, she is Senior Editor of PR.com.
About PR.com
PR.com
is a unique website where companies can promote literally everything about their business in a one stop shop business marketplace. A cross between a public relations and advertising entity, PR.com is a directory of businesses, products and services, a
press release
distribution service, job search website, and online publication of
articles, reviews and celebrity interviews
. With a full company profile, each business listed on PR.com has a powerful means by which to generate quality leads as well as gain worldwide and local exposure for all of their products, services and other business information.
###
Contact
Allison Kugel, PR.com Senior Editor
516-942-0264
www.allisonkugel.com

Contact