Thai Silk Fabric Website Fights for Village Lifestyles
A family funded Thai silk initiative, in a remote Thai village, has as it's key mission, the improvement of the financially poor lifestyles of their village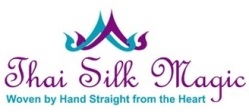 Si Sa Ket, Thailand, September 19, 2010 --(
PR.com
)-- Thai Silk Magic, a family funded Thai silk manufacturer, is dedicated to improving the lifestyle opportunities of their small Thai village in far north eastern Thailand.
They have launched a new website to highlight their handmade Thai silk fabric at
http://www.thaisilkmagic.com
. Their website, using the silk weaving skills of their village, is dedicated to marketing their fabrics and distributing all profits, after expenses, to the village weavers.
In a village beset with crippling rural debt problems where the average family income is less than US$120/month, this initiative of self-help with
handmade silk
by Thai Silk Magic, has significant potential to improve their village lifestyles.
Apart from
Thai silk fabric
, their website provides educational information related to Thai silk. In addition, they also provide a range of business articles, using their village experiences as examples that create a unique twist on common business problems.
According to the Thai Silk Magic founder, Amnuai Beckenham, "When we saw tears in the eyes of some parents last year who had to take their children out of our village school simply because they could not afford the small school fees or the cost of uniforms, we knew it was time to do something special."
Thai Silk Magic is aware that their
key mission
of improving village lifestyles will have many challenges but there is "a real passion to make this work for everyone's benefit," says Amnuai.
Amnuai further states, "This is an opportunity to really help people to help themselves rather than relying upon the limited handouts of public funds."
The Thai silk Magic project has created significant excitement and quoting Amnuai Beckenham, "has sent a real message of help and self pride" throughout their small Thai village.
###
Contact
Thai Silk Magic
Amnuai Beckenham
66812675896
www.thaisilkmagic.com
thaisilkmagic@gmail.com

Contact