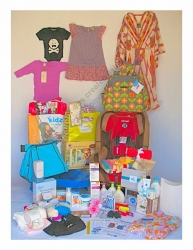 Beverly Hills, CA, June 14, 2012 --(
PR.com
)-- Backstage Bag wows celebrity parents again with amazing baby baskets for new and soon-to-be celebrity moms and dads. Backstage Bag, Hollywood's gift basket provider to the stars, delivered celebrity parents baskets overloaded with high end, chic luxury products and services. "We used to do just one set of baskets a year. They were so popular with the celebrity parents that we started getting lots of requests to do additional baskets. So we do three sets per year for celebrities we hand pick who are pregnant or have just given birth. We get amazing feedback and thank yous all the time from celebrity parents which we always appreciate," says Amy Boatwright, owner of Backstage Bag and part owner of Secret Room Events which produces gift lounges and bags honoring major awards shows and their nominees. "We are careful who we select for our baby baskets. We want products that are new and innovative, luxurious and high end. These baskets go to A-list celebrities who have it all. So we like to give them something different," mentions Amy.
Lucky celebrity parents who received a Backstage Bag June 2012 Edition Celebrity Baby Basket were:
Ty Burrell and wife
Charlize Theron
Maggie Gyllenhall
Kourtney Kardashian
Molly Sims
Jason Lee and wife
Simon Helberg and wife
Alyson Hannigan
Kristin Cavallari
Neve Campbell
Michael Wetherly and wife
Alessandra Ambrosio
Snooki
The following companies were hand selected to be included in Backstage Bag's Celebrity Baby Basket June 2012 edition:
Recaro - the best in child safety systems
recaro.com
Petunia Pickle Bottom - dependable, chic, stylish diaper bags
petunia.com
Rinse Hopper by Clever Loft - the Ultimate Diaper Changer
rinsehopper.com
Mai-NYC - luxury cashmere apparel and accessories
mai-nyc.com
VIP Nannies - finding help for California's most discerning clientele
vipnannyagency.com
Strivectin - anti-aging science and skincare
strivectin.com
Apunto Jewelry - handmade jewelry by Laurie Blair
apuntojewelry.com
HOT milk - sexy maternity lingerie and nursing bras
hotmilklingerie.com
just hatched - creating quality products for your little loved ones
justhatched4babies.com
Living Textiles - luxurious baby bedding and accessories
livingtextiles.com
Go-Go Babyz - innovative, safe products to make life easier when you and your baby are "on the go"
gogobabyz.com
Lil' Melon - stylish baby knee pads
lilmelon.com
Nature Bright - innovative light therapy to treat pregnancy depression
naturebright.com
Bolbach - stylish cuffs and cufflinks
bolbach.com
Bumble Bells - baby anklets with bells so you always know where your baby is
bumblebells.com
Colin Heaney - stunning silk kaftans
colinheaney.com
ToeBlooms - the perfect accessory for precious little toes
toeblooms.com
Apple Cheeks - cloth diapers for the discerning parent
applecheeks.com
babawowo - fashion for 2 and 4-legged babies
babawowo.com
Suboo - designer beach umbrellas, kaftans and accessories
suboo.com.au
Buddha Bowl by Flavour Design - contemporary home accessories and stationery made in north america
flavourdesign.com
Summers Laboratories - premium skincare to treat skin problems
sumlab.com
Mali Kids - denim inspired clothing line for girls
mali-kids.com
Scrumptious Collection - luxury baby blankets
scrumptiouscollection.com
Live Clean Baby - eco-friendly baby care products
live-clean.com
Sella All Natural Skincare - where nature and nano technology unite
sellaus.com
Baby Keba - 100% pima cotton organic baby clothes and layettes
babykeba.com
Backstage Bag Celebrity Baby Bags have been featured in numerous magazines including OK! and Pregnancy and Newborn and also focuses on social media with a presence on Twitter, Facebook and Pinterest. Backstage Bag will be producing an exclusive invite only Hollywood Kids and Parents event in the fall of 2012. If you would like to be considered for this event or for a future Backstage Bag Celebrity Baby Bag, please contact Amy or Ralph at 310-403-3384 or amy@backstagebag.com.
Follow Backstage Bag on Twitter: https://twitter.com/backstagebag or visit our website: www.backstagebag.com