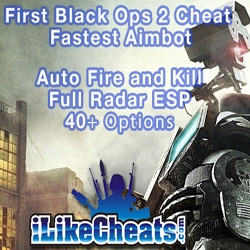 Los Angeles, CA, November 07, 2012 --(
PR.com
)-- Black Ops 2 Cheats and Hacks by ilikecheats.com
The Call of Duty series has gathered a large following of gamers since its inception in 2003. As of 2012, there are eight different releases in the series, with most of the development shared between two of publisher Activision's studios, Infinity Ward and Treyarch. In 2010, a brand new spinoff of the series was created by Treyarch to contrast Infinity Ward's Modern Warfare games. This game, Black Ops, was highly regarded by gamers and critics alike, and paved the way for the latest release from Treyarch, Black Ops 2. Slated for a mid-November release for PS3, Xbox 360, Wii U, and PC, the game brings the Call of Duty franchise into the future for the first time.
With anticipation high for Black Ops 2, coders at
ilikecheats.com
and
CallofDutyCheats.com
have provided cheats for all the Call of Duty series games in the past. It seems likely that CallofDutyCheats.com will have the hack ready for a day-one release, as they are well known for their quick cracks of popular games in the past. In fact, the site was featured in an article by MTV News, which highlighted how their Modern Warfare 2 cheat software was released a mere two hours after the game debuted. The YouTube video featuring the hack also garnered some attention, getting nearly one million views.
ilikecheats will keep up their streak by getting the first
Black Ops 2 cheats
ready for immediate release. As Black Ops 2 is centered around multiplayer competition, along with the rest of the Call of Duty titles, there are many who rely on help to battle others online. Although some disregard hacks and depend only on their skills, Black Ops II cheats have attracted a large number of players due to their variety of features. They provide enhancements and changes to the game that make it easier to locate enemies and lock on targets. The cheats can also make modifications to the Black Ops II engine, which is already one of the most powerful engines ever shipped with a first-person shooter. For example, the speed and consistency of the game can be improved by accelerating the frame rate and removing in-game environments. Removing visuals also makes it easier to see enemies on crowded levels, though some prefer to use their own eyes rather than a Black Ops 2 cheat.
The coming Black Ops 2 title will likely be the one of the most exciting Call of Duty releases yet. Taking the classic series and its deep multiplayer into the future will provide players with all new gameplay. The futuristic technology will bring many robots and drones, and the returning Zombies mode will surely keep things interesting for fans. Whether or not
Call of Duty Black Ops 2 hacks
will arrive on the first day remains to be seen, but gamers will likely not have to wait very long, if the trend seen on other recent titles is any indication.
Christy Garmen
News Editor
Christy has been writing about games for websites such as ilikecheats and CallofDutyCheats since 2007. Her favorite series include anything with first person shooters in it, Call of Duty, Medal of Honor Warfighter, Battlefield 4 and Black Ops 2.