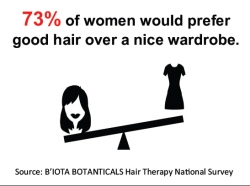 New York, NY, April 23, 2014 --(
PR.com
)-- Women love their hair. They devote time, energy and money to helping it feel and look its best. It's even a means of self-expression, sometimes more so than a woman's clothing.
Yet, most women are not satisfied with their hair and are concerned about the future of their locks.
B'IOTA Botanicals Bioxsine Hair Therapy set out to take the pulse of American women ages 30+ and find out how they really feel about their hair as they – and it – ages. According to this national survey, most women have already noticed, and worry about, their hair thinning with age. In fact, more women are concerned about thinning hair than they are about going grey (58% vs. 51%). Many say that the condition is embarrassing and a clear-cut sign of getting older, and most agree that it's an unpreventable fate.
Other key survey findings:
· Nearly three in four women (73%) admit they would prefer good hair to a nice wardrobe. For women experiencing thinning hair, this sentiment is even higher, with 76% feeling this way.
· Fewer than half (45%) of women 30 and over feel satisfied with their hair
· More than half (55%) of women admit wishing they could improve the current state of their hair.
· Nearly two-thirds (66%) of women experiencing "bad hair days" claim the state of their hair can leave them feeling unattractive and, given the emotional connection women have with their hair, can greatly impact day-to-day experiences, with 21 percent admitting it can ruin an entire day.
· Nearly four in five believe that thinning hair is embarrassing (77%) and a sign of aging (78%).
· Nearly three in five (58%) would feel less attractive with thinning hair than an extra five pounds.
So, while "bad hair days" may spell bad news – after all, almost nine in ten (89%) of us admit to them – there is some good news. Most (77%) women who have "good hair days" say these moments make them feel happy, as well as sexy (39%) and powerful (29%).
If your "crown and glory" seems a little less than these days, and your tresses are in need of a little TLC, the solution might be as easy as washing your hair.
B'IOTA Botanicals Bioxsine Hair Therapy for Thinning-Damaged Hair is a complete line of herbal shampoos, conditioner and serum that have been specifically formulated and clinically shown to help combat thinning hair and also reduce hair fall due to damaged hair follicles. The secret is in the exclusive ingredient Herbal Complex B11 - a unique, proprietary combination of herbal extracts with naturally occurring minerals and essential fatty acids. This blend nourishes the scalp. Regular and continued use revitalizes the appearance of hair and is shown to dramatically help with thinning hair, allowing for faster growing, fuller, stronger, thicker looking hair.
At the end of clinical study, More than 97% of subjects reported their hair grew faster, fuller and stronger when using shampoo and serum combined; more than 83% of study participants reported their hair grew faster, fuller and stronger when using only B'IOTA Herbal Shampoo.*
*Results of 6-month, placebo controlled, independent clinical study of B'IOTA Botanicals Herbal Shampoo for Thinning & Damaged Hair plus and Advanced Herbal Scalp Serum
About The Survey The Biota Botanicals Survey was conducted by Kelton Global between February 28th and March 9th, 2014 among 1,023 female Americans ages 30 and over using an email invitation and an online survey. Quotas are set to ensure reliable and accurate representation of the entire female U.S. population ages 30 and over.