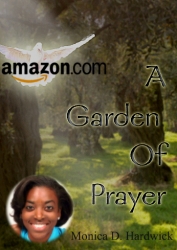 Saint Petersburg, FL, April 25, 2014 --(
PR.com
)-- A Garden of Prayer, a play for children written by Monica D. Hardwick, will be made available globally in multiple languages via Amazon on May 1, 2014.
The story, originally written for Bay Area Studios Foundation, is a fun, energetic and memorable way to teach kids how to pray and how to increase their faith. "I kept getting requests from people who wanted a copy emailed to them," said Miss. Hardwick. "After an idea from a family member, I decided that I would make it available for other youth groups to perform as well."
Bay Area Studios Foundation is a Non-Profit Performing Arts Company located in St. Petersburg Florida created, founded and funded by Monica D. Hardwick and dedicated to providing youth encouragement, empowerment, scholarships, workshops and opportunities to develop and perfect their craft through a unique production experience. You may connect with Miss Hardwick on Twitter: @MonicaDHardwick
Portions of the proceeds benefit the Bay Area Studios Foundation of St. Petersburg, Florida.