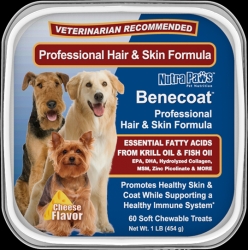 Waynesboro, VA, January 07, 2015 --(
PR.com
)-- Marvelous Products®, together with Nutra Paws™, is proud to announce several improvements to
Benecoat™ Fish Oil for Dogs
. They have listened to their customers' requests and have been working hard to make Benecoat™ better than ever.
A dog's skin is his first layer of protection from the outside world of parasites and infection. Benecoat™ helps boost your dog's defenses by providing his body with an ideal ratio of two ingredients that his body cannot produce on its own – Omega-6 and Omega-3 Fatty Acids. These Essential Fatty Acids (EFAs) are necessary for supporting the function of your dog's oil glands. They assist in reducing skin irritations, itching, and allergies, as well as maintaining his overall health and immune response.
It is important to ensure that dogs receive the proper balance of Omega-3 and Omega-6 Fatty Acids. Store-bought dog food brands typically contain larger than necessary quantities of Omega-6 Fatty Acids because they contain the tissues from animals that are fed a steady diet of grains and other foods that are high in Omega-6's. In addition, many dog food companies add additional ingredients to their foods during the manufacturing process that are high in Omega-6's including corn, grain, and vegetable and seed oils. As a result, commercial dog food ends up being unbalanced, containing a very high amount of Omega-6 Fatty Acids and very small amounts of Omega-3's.
Signs that dogs may be suffering from a fatty acid deficiency or imbalance can include:
• skin irritation such as itching or redness
• dull coat
• dermatitis
• bacterial and yeast infections of the skin
• skin allergies
• scaly spots or dry, flaking skin
• greasy spots on coat or skin
Each dose of Benecoat™ provides dogs with the proper ratio of Omega-3 and Omega-6 Fatty Acids as well as the latest evidence-based and scientifically researched ingredients including:
Krill Oil - an excellent source of Omega-3s for dogs that are easily absorbed into tissues because it delivers DHA and EPA phospholipids directly into cells. As a food source, krill is both sustainable and renewable and does not contain toxins, pollutants or heavy metals.
Zinc Picolinate - a mineral used to improve the quality of dog's hair, skin, and coat.
MSM - a natural source of sulfur that helps in the formation of collagen and keratin - proteins that are essential for the formation and maintenance of healthy hair, skin, and coat.
Hydrolyzed Collagen - a modified form of collagen that the bloodstream easily absorbs. Its benefits have been demonstrated in dogs with open wounds by promoting the growth of new skin1.
"The updates that we have made to
Benecoat
™ Professional Hair and Skin Formula serve to make it the best cheese flavored fish oil for dogs soft chew supplement available. Not only does it promote both healthy skin and coat, but it helps to support a balanced immune system that aids in defending against parasites and infections," explains Director of Marketing Renée Beverlin. "Nutra Paws® has become a leader in pet health because we are dedicated to improving the quality of pets' lives by providing natural, affordable supplements with quality ingredients that are based in science and research. We are excited to offer these natural alternatives for pet health at an unmatched value and standard that we are proud to stand behind."
Benecoat™ is available in 60 and 180 count cheese flavored soft chews.
1. Effects of a Hydrolyzed Collagen Dressing on the Healing of Open Wounds in Dogs. American Journal of Veterinary Research
Pubmed http://www.ncbi.nlm.nih.gov/pubmed/11131601
About Marvelous Products, LLC:
Marvelous Products, LLC is an online retailer of health and wellness products, specializing in dietary supplements such as vitamins, minerals, and herbs, as well as cosmetics, organic personal products and sports nutrition. Marvelous Products, LLC retails directly to customers through its website, www.MarvelousProducts.com. Marvelous Products, LLC strives to provide its customers with a variety of scientifically researched, evidence-based products, while providing excellent customer service and timely delivery of orders.