A World Lost to Collision of Politics, Piety
Green Stone of Healing(tm) Series Explores Alternate Themes of Energy-Healing, Reincarnation, Intuitive Abilities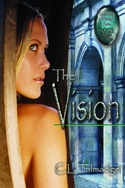 Lancaster, TX, December 06, 2007 --(
PR.com
)-- When politics and piety collide, the conflagration consumes a mighty country and imperils the world.
Thus goes the tale of the Green Stone of Healing(tm) epic fantasy series, the first book of which, The Vision, is now available in ebook format from HealingStone Books.
Packed with romance, action, and intrigue, the series chronicles how state backing for an exclusionary religion leads to worldwide destruction, obliterating a powerful island nation called Azgard.
The Vision introduces first-generation heroine Helen Andros, an opinionated, tough-minded physician who wears a mysterious green gem. Helen is also emotionally wounded and vulnerable, an illegitimate half-breed in a realm divided by race and rank.
Critics have praised The Vision "...it's a gripping page-turner, and the characters are well-drawn and convincing. The story is compelling and quite captivating," writes Anne Garber, managing director of evalu8.org.
"Those who love deep intricate stories, full of mystery and action, dripping with power struggles and battles for dominion, this book is for you," adds author and book critic Shirley P. Johnson in Midwest Book Review, giving The Vision five stars.
"Helen is a formidable protagonist," says Kirkus Discoveries.
Caught in theocratic political machinations that almost end her life, Helen learns her father's true identity as one of the country's most powerful Toltec lords.
The revelation that impelled Helen's Turanian mother to bear a despised half-breed comes to light through the otherworldly Mist-Weavers. These ancient, secretive beings, appearing and dissolving at will, know of the jewel's potentials.
Targeted for death by the state-supported Temple of Kronos, Helen is unable to reconcile with her newfound parent. She must learn to make full use of the stone and necklace and a special kind of energy called kura if she is to survive and fulfill her spiritual destiny.
Throughout, the heroines and their mysterious green gem attempt to offer a healing, inclusive alternative to a government that persecutes those who do not look like or share the religious beliefs of those in power.
Readers who become fond of Helen and other characters will be delighted that they reincarnate, affirming that not even death can separate lovers and loved ones (or enemies).
Author C.L. Talmadge describes her series as, "a blue-state version of 'end-of-the-world' fiction without a traditional religious viewpoint. Instead, it examines alternative spiritual themes and sets forth a different interpretation of free will and good and evil."
Talmadge's writing career began in 1976. A weekly political columnist syndicated by North Star Writers group (
www.northstarwriters.com
), she has been a staff reporter or freelanced for numerous media, including Business Week, the Dallas Times Herald, Forbes, the International Herald Tribune, The New York Times and Reuters America.
Contact: C.L. Talmadge
+1.972.227.8233
author@greenstoneofhealing.com.
Media website:
www.greenstoneofhealing.com/press
.
eBook: $6.95
Format: .pdf only
Pages: 243
ISBN-13: 978-0-9800537-0-8
Series website/HealingStone Books:
www.greenstoneofhealing.com
###
Contact
HealingStone Books
Candace Talmadge
+1.972.227.8233
www.greenstoneofhealing.com

Contact