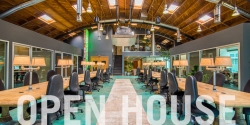 Los Angeles, CA, April 15, 2016 --(
PR.com
)-- DIGILAND - a unique new collaborative environment, a destination for digital disruptors, content creators, and entrepreneurs. Explore DIGILAND's facility & enjoy live entertainment.
On Thursday April 28th from 11AM - 4PM, DIGILAND is unveiling the first collaborative work space with studios in the San Fernando Valley.
DIGILAND sits at the intersection of entertainment, technology and culture. DIGILAND's beautifully designed cutting edge facility includes collaborate work spaces, pilot offices, conference rooms, creative suites, sound stages, and post-production rooms, to equip entrepreneurs at all levels.
Located in Burbank, and founding home to Monster Garage, Deadliest Catch to name a few, DIGILAND provides engineers, entrepreneurs and content creators the resources needed to build businesses for the modern world.
Come meet the anchor tenants: Thom Beers, former CEO of Fremantle Media, now of BoBCat, creator of Deadliest Catch, Ice Road Truckers, Storage Wars, and 1000 Ways to Die. Plus, Co-Founder of Revolt, EVP of MTV and now EveryDay Networks CEO, Andy Schuon; Founder and former CEO of Premiere Networks, Business Rockstars, Steve Lehman; as well as METal Founder Ken Rutkowski, Business Rockstars on-camera personality, doing his live Network broadcast from the Business Rockstars studios within DIGILAND.
Come and engage with some of the sharpest minds and content creators in Los Angeles. Explore DIGILAND's facility, meet their partners, while enjoying BBQ, drinks and special surprise Live Entertainment.
When: Thursday, April 28, 2016 from 11:00 AM to 4:00 PM
Where: DIGILAND - 2443 N. Naomi Street, Burbank, CA 91504
This event is invite-only with limited capacity. If you are a media professional and interested in covering this event, please reach out to Ki Ki Lee Herr at kikileeherr@gmail.com or 714.815.5441
Official Event Notice via
https://discoverdigiland.eventbrite.com
.
DIGILAND is the destination for digital disrupters, content creators, and entrepreneurs... create, connect and collaborate. As an epicenter for some of the most impactful leaders in media, entertainment and technology, it's our turn to open doors for those actively designing the future. www.joindigiland.com