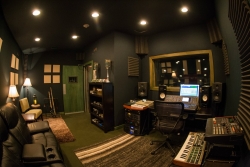 Burbank, CA, June 22, 2016 --(
PR.com
)-- DIGILAND is a unique new collaborative environment, the first inclusive, shared work space with studios in the San Fernando Valley, owned by 3 time Emmy Award winning producer Thom Beers (BOBCat, Deadlines Catch, Ice Road Truckers, Storage Wars, 1000 Ways To Die).
DIGILAND is the destination for digital disrupters, content creators, and entrepreneurs. Your home to create, connect and collaborate. As an epicenter for some of the most impactful leaders in media, entertainment and technology, it's our turn to open doors for those actively designing the future.
Did you know that Southern California now officially has to the most tech companies in the U.S. -- more than Silicon Valley? Millions move to SoCal each year with aspirations of entering the media, entertainment and tech industries. Yet, when people think of Southern California, they immediately think Hollywood, Santa Monica, or the new Silicon Beach (Venice/Playa Vista). However, Burbank has historically been a thriving hub for media, tech and entertainment -- home to many of the most iconic innovators and companies across each industry. DIGILAND reflects the depth of Burbank's rich and disruptive history, while tuning into the changing times of today's tech-driven economy.
DIGILAND sits at the intersection of entertainment, technology and culture. Their beautifully designed cutting edge facility includes collaborate work spaces, pilot offices, conference rooms, creative suites, sound stages, and post-production rooms, to equip entrepreneurs at all levels.
This is why DIGILAND has partnered with BNV Studios, a full service boutique recording studio, to bring you an unparalleled full studio rental, recording, mixing, mastering and production services, inside DIGILAND's welcoming, eclectic and diverse facility.
Owned by Brian and Nicole Vasquez, BNV Studios is excited to become a piece of DIGILAND's amazing community, contributing 20 years of industry leading experience. Working with artists and brands such as Apple, CBS Radio, Spotify, Perez Hilton, Native Wayne Jobson, Leona Lewis, Jo Mersa Marley and Barrington Levy just to name a few, BNV services include: Studio rentals, pristine mixing & mastering, commercial production, scriptwriting, voiceover sessions, voiceover demo recordings, record label showcases, podcasts, sound design, original music, songwriting, live performances, AVID, ADR, videographers, artist development, album listening parties, pop up events, radio imaging & marketing consultation.
BNV has also created and curated two artist showcases: "Catch A Fire Nights" and "Stripped Off Sunset" series will now be taking place at DIGILAND featuring two performance venues primed for showcasing.
Come to BNV Studios at DIGILAND and produce your next masterpiece. Contact Nicole Vasquez nicole@BNVProductions.com 818 285-8509 (Office) 818 641-3777 (Cell).
Join DIGILAND as a member with their Spring Special: Membership starts at $299 for open seating at in DIGILAND 9am-5pm Mon-Fri. However, they are running a special till June 30 - Get their $499 Dedicated Work Desk with 24/7 every day Access, for just $299 for the first 3 months. This offer is only available for the first 10 who contact. Hurry.
Located in Burbank, and founding home to Monster Garage, Deadliest Catch Business Rockstars, to name a few, DIGILAND provides engineers, entrepreneurs and content creators the resources needed to build businesses for the modern world.
Contact us Ki Ki Lee Herr at
info@joindigiland.com
714-815-5441
Have you visited DIGILAND yet? What are you looking for in a collaborative workspace? Tell us what you think:
http://goo.gl/forms/MNerPT2rr3r47NAN2
DIGILAND - 2443 N. Naomi Street, Burbank, CA 91504
www.joindigiland.com