Provincetown Artist Shania LeClaire Riviere Continues to Capture Attention with Visual and "Drag Fusion" Art
Internationally lauded visual and "drag fusion" artist Shania LeClaire Riviere continues an eclectic year of art that has already included an Orlando Tribute which he shared with legendary film director John Waters; a tribute painting selected for Solidarity Through Pride in Boston; several shows of his My Weekend in Provincetown series of drawings and watercolors. He continues with #ARTONSHANIA, 8@8 art events at acclaimed 8 Dyer Hotel and a preview of new prints at AMP.
Provincetown, MA, July 05, 2016 --(
PR.com
)-- Visual and "drag fusion" artist Shania LeClaire Riviere is heading into July with more than one visual celebration for locals and tourists in Provincetown Massachusetts, including a special 8@8 Art Show, which will be presented on Wednesday, July 13th from 6-8pm at 8 Dyer Hotel in Provincetown. This special reception will feature drawings and watercolors from the artist's series, "My Weekend In Provincetown," with some of the work featuring visitors at iconic landmarks: The Crown and Anchor, Lobster Pot and the Boat Slip Pool. Hors d'oeuvres by Chef Brandon Quesnell and wine will be served.
On July 29th, Shania continues #ARTONSHANIA 2016 (a "drag fusion" walking art installation project which debuted in the summer of 2015). Shania creates a different "look" every other Friday during the Provincetown Gallery Stroll. Participating galleries this year are: Schoolhouse Gallery, Four Eleven Gallery, and Woodman/Shimko Gallery.
In the past year, Shania (whose real name is Shane Adams) has graced the cover of International Magazine Et Alors? and Provincetown Magazine as well as having art work featured in Vogue Living and the Design Files. Earlier this spring, his painting, "Jerk," which pays tribute to homosexual holocaust prisoners, was juried into a special Pride Exhibit at the Alternative Art Space Gallery in Boston. He recently created a tribute to Orlando with #ARTONSHANIA at The Provincetown International Film Festival which he shared at a special producers event at The Schoolhouse Gallery with legendary film director John Waters (pictured in photograph with Shania) and Project Greenlight Producer, Effie Brown. Shania continues to document the people who come to Provincetown through his lauded photography series, "Strangers." It is this series of photographs that were deconstructed and drawn and painted by the artist to develop the prints for MY WEEKEND IN PROVINCETOWN.
In August, in addition to #ARTONSHANIA, Shania will be previewing two works from his "Beauty of Being Broken" series which are abstracts of his drag fusion creations. These pieces will be on display at AMP: Art Marketplace Provincetown Gallery from August 12th through August 25th with an opening reception on the 12th from 6-9pm.
8 Dyer Hotel, which hosts the July 13th event, is located at 8 Dyer Street in Provincetown's East End. AMP is also located in the East End at 432 Commercial Street. AMP: Art Market Provincetown is a live contemporary gallery space dedicated to exhibiting multi-disciplined work by visual, conceptual, performance artists, filmmakers and writers. Exhibitions & Happenings are primarily cutting-edge, and often process-based.
For more news and information about Shania LeClaire Riviere please visit
http://www.shanialeclaireriviere.com
Contact
ARTONSHANIA
Patrick Riviere
508-776-3548
http://www.shanialeclaireriviere.com/

Contact
Multimedia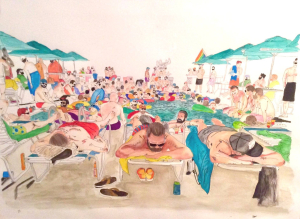 Photo of original drawing and watercolor by Shania LeClaire Riviere. This artwork is a "deconstruction" of a photograph taken by Shania as part of his "Strangers" series.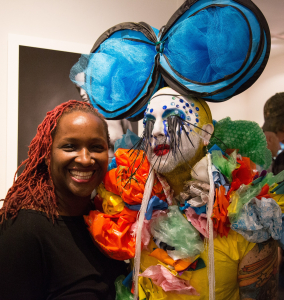 Photo of Shania during #ARTONSHANIA Orlando Tribute with Project Greenlight Producer Effie Brown at Provincetown International Film Festival event at Schoolhouse Gallery. Photo by Patrick Riviere.