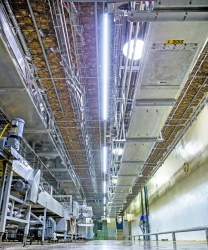 Albany, NY, October 19, 2016 --(
PR.com
)-- G&G LED, a leading supplier of industrial, wet location LED lighting, has introduced a new series of sales, marketing and product development programs designed to expand the company's reach within the food processing, manufacturing, transit, agricultural, warehousing and facilities management industries. Launched in 2010, G&G LED has increased year-to-year sales revenues by 125 percent over the past year alone and ranked 713 on the annual Inc. 5000 list of fastest growing companies in America.
"We are dedicated to serving both new and existing customers with extremely durable LED fixtures that are strong, simple-to-use and provide the versatility needed to offer bright, white and long-lasting lighting to high-demand industrial environments," says Jason Baright, president of G&G LED. "We firmly believe the reach of our technology is limitless. The strength of our fixtures combined with their ultra-slim profile make them a comfortable fit for nearly any location. They also stand out from the competition through their maintenance-free-operation and push-and-click, connectors and cabling literally making installations a snap.
"Another driving factor behind our growth is unwavering commitment to quality. Since everything we make is manufactured onsite, the highest levels of consistency are represented within every single luminaire bearing our brand. Standards that guarantee satisfaction and surpass industry protocols are a mainstay of all our processes," adds Baright.
Since moving to new 6,500 sq. ft. headquarters in Albany, New York to accommodate the company's ongoing growth by tripling warehousing and office space, G&G LED has invested heavily into the enhancement of existing products, while developing additional LED lines for the horticultural and hazardous location marketplaces. Other new introductions will include higher output and longer run capabilities, controllable RGB fixtures and increased efficiencies up to 145 lumens per watt.
In addition to recently updating www.ggled.net with easy-to-navigate informational features that detail how G&G luminaires operate in specific industry applications, the company also introduced new custom layout services specifying the exact layout of their LED fixtures at customer locations.
"Our goal is the continued development and launch of LED products and services to wide-ranging commercial markets and eventually consumer households," says Bruce Kenison, G&G LED's newly-announced National Sales Director. "This includes reinforcing our sales activities with our ongoing dedication to innovations and custom design capabilities. Our goal is to be the recognized leader in cost-effective, highly-reliable LED lighting products designed for easy installation in harsh, wet environments."
For more information on G&G LED wet location lighting, please visit www.ggled.net or call 800-285-6780.
About G&G LED
Headquartered in Albany, New York, G&G LED was founded in 2010 to fill industrial lighting needs for high-quality linear LED products, especially those suitable for wet locations and harsh environments. Since its introduction, the company has developed a widespread reputation for innovation and outstanding customer service, while rapidly gaining traction in the car wash, automotive, food/restaurant, transportation, industrial and agricultural markets.